04.06.2019 | Original | Ausgabe 7/2019 Open Access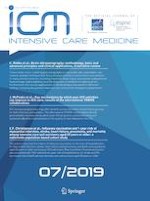 Key mechanisms by which post-ICU activities can improve in-ICU care: results of the international THRIVE collaboratives
Zeitschrift:
Autoren:

Kimberley J. Haines, Carla M. Sevin, Elizabeth Hibbert, Leanne M. Boehm, Krishna Aparanji, Rita N. Bakhru, Anthony J. Bastin, Sarah J. Beesley, Brad W. Butcher, Kelly Drumright, Tammy L. Eaton, Thomas Farley, Penelope Firshman, Andrew Fritschle, Clare Holdsworth, Aluko A. Hope, Annie Johnson, Michael T. Kenes, Babar A. Khan, Janet A. Kloos, Erin K. Kross, Belinda J. MacLeod-Smith, Pamela Mactavish, Joel Meyer, Ashley Montgomery-Yates, Tara Quasim, Howard L. Saft, Andrew Slack, Joanna Stollings, Gerald Weinhouse, Jessica Whitten, Giora Netzer, Ramona O. Hopkins, Mark E. Mikkelsen, Theodore J. Iwashyna, Joanne McPeake
Wichtige Hinweise
Electronic supplementary material
Disclaimer
This does not necessarily represent the views of the U.S. government or Department of Veterans Affairs.
Publisher's Note
Springer Nature remains neutral with regard to jurisdictional claims in published maps and institutional affiliations.
Abstract
Objective
To identify the key mechanisms that clinicians perceive improve care in the intensive care unit (ICU), as a result of their involvement in post-ICU programs.
Methods
Qualitative inquiry via focus groups and interviews with members of the Society of Critical Care Medicine's THRIVE collaborative sites (follow-up clinics and peer support). Framework analysis was used to synthesize and interpret the data.
Results
Five key mechanisms were identified as drivers of improvement back into the ICU: (1) identifying otherwise unseen targets for ICU quality improvement or education programs—new ideas for quality improvement were generated and greater attention paid to detail in clinical care. (2) Creating a new role for survivors in the ICU—former patients and family members adopted an advocacy or peer volunteer role. (3) Inviting critical care providers to the post-ICU program to educate, sensitize, and motivate them—clinician peers and trainees were invited to attend as a helpful learning strategy to gain insights into post-ICU care requirements. (4) Changing clinician's own understanding of patient experience—there appeared to be a direct individual benefit from working in post-ICU programs. (5) Improving morale and meaningfulness of ICU work—this was achieved by closing the feedback loop to ICU clinicians regarding patient and family outcomes.
Conclusions
The follow-up of patients and families in post-ICU care settings is perceived to improve care within the ICU via five key mechanisms. Further research is required in this novel area.