12.03.2018 | Sleep Breathing Physiology and Disorders • Review | Ausgabe 3/2018 Open Access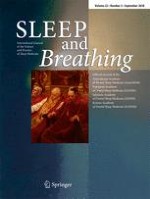 Kleine-Levin syndrome: clues to aetiology
Zeitschrift:
Autoren:

Saad Mohammed AlShareef, Richard Mark Smith, Ahmed Salem BaHammam
Wichtige Hinweise
This review article or any part of it has not been presented at any conference or published and is not under consideration elsewhere. There is no relevant clinical trial registration.
Abstract
Kleine-Levin syndrome (KLS) is the commonest recurrent sleep disorder, with a prevalence of 1–2 per million population. Clear diagnostic criteria are now defined, but effective treatment remains elusive. The significant body of published literature allows consideration of possible aetiological mechanisms, an understanding of which could guide the development of therapeutic strategies. Functional imaging studies have been inconclusive; although diencephalic abnormalities are a common finding, no consistent pattern has emerged, and these studies have not revealed the mechanism(s) underlying the development of the abnormalities detected. An autoimmune aetiology is consistent with the available data. In this review, we argue that, in order to further our understanding of KLS, there needs to be a co-ordinated international effort to standardise approaches to functional imaging studies, genetic analyses that specifically address the possibility of an autoimmune aetiology, and clinical trials of immunosuppressive therapies.