12.03.2018 | Sleep Breathing Physiology and Disorders • Review | Ausgabe 3/2018 Open Access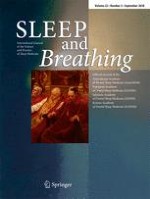 Kleine-Levin syndrome: clues to aetiology
Zeitschrift:
Autoren:

Saad Mohammed AlShareef, Richard Mark Smith, Ahmed Salem BaHammam
Wichtige Hinweise
This review article or any part of it has not been presented at any conference or published and is not under consideration elsewhere. There is no relevant clinical trial registration.
Abbreviations
MHC
Major histocompatibility complex
MRI
Magnetic resonance imaging
SPECT
Single photon emission tomography
FDG-PET
Fluorodeoxyglucose-Photon emission tomography
EAE
Experimental autoimmune encephalomyelitis
PAMP
Pathogen-associated molecular patterns
DAMP
Damage-associated molecular patterns
Introduction
Psychological theories of KLS were considered throughout the 1970s but dismissed in favour of 'physical' causes. Subsequent neuroanatomical, neurophysiological, biochemical, and more recently functional neuroimaging studies have added to our understanding. However, these imaging studies do not define the pathological processes causing the abnormalities detected. Possible causes include a purely psychological aetiology, physical trauma, toxins, infection, neurotransmitter abnormalities (in particular in serotonergic or dopaminergic pathways), and autoimmunity. A genetic component has also been suggested, and clues to pathogenesis may be gleaned from the effectiveness or otherwise of pharmacological interventions.
Clinical features
Additional clinical features of note when considering the aetiology of KLS are the median age of onset of 15 years (4–82 years, 81% during second decade), male preponderance, infectious prodrome, relapsing-remitting nature of the illness with complete clinical recovery between episodes, ultimate resolution of attacks in most cases, possible HLA associations, and ethnic differences.
Aetiological considerations
Psychological
Neurophysiological and neurochemical abnormalities
Thus, neurophysiological and biochemical studies exclude epileptiform activity and deficient orexin production of the magnitude seen in narcolepsy as causes of KLS. However, no consistent findings have been described that suggest an alternative aetiology.
Pathology, physiology, and neuroimaging
In general, these findings support the suggestion that, although remission of the classic diagnostic symptoms is typical of KLS, at least some aspects of the underlying disease process, or the physiological abnormality predisposing to KLS, persist between clinically evident episodes.
The different brain areas identified by functional neuroimaging and the lack of clarity with regard to the resolution of abnormalities during asymptomatic periods make it difficult to incorporate these findings into a definitive aetiological hypothesis. Further studies with comparison of symptomatic and asymptomatic periods, including where possible healthy controls, and studies that correlate findings of neuroimaging with detailed neuropsychometric testing will hopefully further our understanding of this important area.
Infection and KLS
Autoimmunity
Immunology of autoimmune disease
Understanding the immunobiology of autoimmune disease explains the inconsistent findings with regard to HLA disease associations and possible infectious triggers. Helper T lymphocytes (Th cells) co-ordinate cellular and humoral (antibody-mediated) immune responses and are thus central to the development of autoimmune disease. They are activated by binding of their T cell receptor (TCR) to a peptide antigen, derived from a target protein, complexed with a class II major histocompatibility complex (MHC) molecule. Human leukocyte antigen (HLA) molecules are the equivalent human MHC molecules.
Importantly, many potentially autoreactive T cells are present in the adult immune system that are never activated to cause autoimmune disease. There are two main reasons for this.
Second, a trigger is required for T cells to activate and manifest their autoreactive potential. Infection and inflammation resulting from traumatic tissue injury are established triggers.
HLA associations in KLS
Although defining an HLA association is a well-trodden path in the demonstration of an autoimmune aetiology, this inability to define a clear HLA disease association does not preclude an autoimmune aetiology for KLS. First, the MHC is only one autoimmune disease susceptibility factor, this autoimmune potential being critically influenced by multiple additional polymorphic loci. Furthermore, in animal models of neurological autoimmune disease (e.g. experimental autoimmune encephalomyelitis [EAE], an animal model of multiple sclerosis in which the target is myelin), a range of tissue-specific antigens may be the target of autoimmune attack (e.g. myelin basic protein, proteolipoprotein, myelin oligodendroglial glycoprotein) and any given antigen may generate a number of different peptide epitopes capable of causing disease. Each of these autoantigenic epitopes may be presented preferentially by a different MHC molecule. The close association of HLA-DR2 with narcolepsy is therefore the exception rather than the rule. For most autoimmune diseases, multiple permissive peptide/HLA combinations exist, additional susceptibility genes influence disease development, and a trigger is required for the autoimmune potential to manifest itself.
PAMPs and DAMPs as triggers for autoimmune disease
Infection is often considered a trigger for autoimmune disease. This may be due to an infectious agent triggering an immune response that cross-reacts with a self-antigen (e.g. in rheumatic heart disease), but very few autoimmune diseases fit so clearly into such a hypothesis. Infection has also been suggested to cause autoimmune disease by releasing antigens from tissues that are not usually available to the immune system. This may be due to 'physical' release or due to inflammation modifying the antigen processing pathways such that 'new' peptides are produced (cryptic epitopes) that can cause disease.
In general, therefore, an association needs to be shown with a particular agent or group of agents that express cross-reactive antigenic epitopes or with an agent causing infection (and therefore inflammation) in the target organ/tissue. The link with infection as a trigger for autoimmune disease and the complex influence of the genetic background are thus clear. Furthermore, this hypothesis can be extended to other mechanisms of tissue damage that may be relevant to the descriptions of head injury preceding KLS onset.
Clues from therapeutic interventions
Summary
The diagnostic clinical features of KLS may be explained by the specific neuroanatomical location of cerebral dysfunction. It is also important to determine the cause of this dysfunction. Importantly, more than one process may be responsible in different individuals, akin to Parkinson's disease, where similar clinical features may be caused by infection, vascular insult, or most often degenerative disease.
This review reaches the inescapable conclusion that the available evidence best fits with an autoimmune aetiology, as first proposed by Dauvilliers [
2
]. It is difficult to directly confirm this, in particular as brain histology is not available and no animal model exists. A co-ordinated international effort to consistently diagnose, investigate, and manage KLS is progressing our understanding of this disease. Genetic studies examining the many polymorphisms affecting immune responsiveness [
73
] would be of interest. Ultimately, the possibility of an autoimmune aetiology will only be addressed by a co-ordinated multi-centre randomised interventional study using immunosuppressive drugs, which should now be possible. Although individual case reports have suggested IVIg treatment to be of benefit in narcolepsy [
109
], overall results have been disappointing [
71
]. These findings should sound a note of caution and emphasise the importance of careful choice of immunosuppressive strategy in clinical trial design.
Practice points
1. Clinical diagnosis should be made with reference to the AASD ICSD-3 (2014) criteria. The reviews of Arnulf and Billiard are also of particular use.
2. Clinical examination, electrophysiological studies, and CNS imaging are expected to be normal in KLS patients.
3. The therapeutic intervention most likely to be of benefit is lithium, although proof of efficacy is lacking.
4. Functional neuroimaging may be helpful but is not diagnostic. Referral to a sleep centre with expertise in diagnosing and managing Kleine-Levin syndrome is recommended.
Research agenda
1. The recent Cochrane Review of treatment was inconclusive, largely due to small numbers of informative patients. A co-ordinated multi-centre, double-blind, randomised, controlled trial of treatment would be of benefit.
2. An autoimmune aetiology is suggested, but not confirmed, by available data. This could be address further by:
Genetic analysis of loci associated with autoimmune disease
Therapeutic trials of immunosuppressive agents
3. Functional imaging studies comparing symptomatic and asymptomatic periods and including healthy controls is of interest, in particular to define persistent abnormalities in asymptomatic patients compared to healthy controls.
Glossary
Diencephalon
The diencephalon is one of the five secondary brain vesicles developing from the rudimentary forebrain. This name is retained in the nomenclature of the mature brain, as it identifies distinct structures: the thalamus, epithalamus, hypothalamus, and subthalamus.
Major histocompatibility complex
The major histocompatibility complex (MHC) is a cluster of genes that encode proteins expressed on the surface of almost all cells. Human MHC genes are expressed on chromosome 6 and encode production of human leukocyte antigen (HLA) molecules, often referred to as tissue-type antigens. The protein products of the MHC can be divided into two subtypes: class I and class II MHC molecules. MHC molecules act to 'present' peptide antigens to T lymphocytes, which is essential for T lymphocyte activation.
Antigen
Antigens are molecules that elicit a specific immune response. They are most often proteins or peptides but can include lipid and carbohydrate moieties. Antibodies recognise intact antigens, whereas T lymphocytes recognise peptide fragments derived from protein antigens that are 'presented' bound to MHC molecules.
Helper T lymphocyte
Helper T lymphocytes are the co-ordinators of acquired antigen-specific immune responses. Many antibody responses (humoral responses) require helper T lymphocytes, specific for the same target antigen, to be activated in order for antibody production to occur. Cellular responses are mediated by macrophages or cytotoxic T cells that are also usually dependent on concomitant helper T cell activation. Helper T lymphocytes recognise peptide antigens presented specifically by class II MHC molecules.
T cell receptor
The T cell receptor is an antibody-like molecule on the surface of T cells that binds specifically to the complex of an MHC molecule and processed peptide antigen. T cell receptor binding to this complex results in T cell activation.
Compliance with ethical standards
Conflict of interest
The authors declare that they have no conflict of interest.
Ethical approval
This article does not contain any studies with human participants or animal performed by any of the authors.
Open Access
This article is distributed under the terms of the Creative Commons Attribution 4.0 International License (http://creativecommons.org/licenses/by/4.0/), which permits unrestricted use, distribution, and reproduction in any medium, provided you give appropriate credit to the original author(s) and the source, provide a link to the Creative Commons license, and indicate if changes were made.