01.12.2015 | Research article | Ausgabe 1/2015 Open Access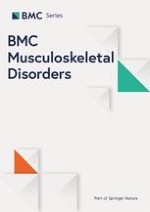 Knee arthrodesis using a unilateral external fixator combined with crossed cannulated screws for the treatment of end-stage tuberculosis of the knee
Zeitschrift:
Autoren:

Xin Tang, Jing Zhu, Qi Li, Gang Chen, Weili Fu, Jian Li
Wichtige Hinweise
Jing Zhu and Xin Tang contributed equally to this work.
Competing interests
The authors declare that they have no competing interests.
Authors' contributions
TX and ZJ carried out the background literature research and the follow-up evaluations for all patients. TX and ZJ equally contributed to the writing of the paper. LQ and CG were responsible for analysis and interpretation of the data. LJ and FW initiated the study, provided suggestions for the study and critically reviewed the manuscript. LJ was the senior author was responsible for the study set-up. All authors read and approved the final manuscript.
Abstract
Background
The treatment of end-stage tuberculosis (TB) of the knee remains a significant clinical challenge, and clinical data are lacking. This study aimed to retrospectively determine the outcome of single-stage knee arthrodesis with a unilateral external fixator combined with cannulated screws for the treatment of end-stage TB.
Methods
Twenty-six patients with end-stage knee TB were treated by single-stage arthrodesis. All patients underwent open debridement and the insertion of a unilateral external fixator combined with crossed cannulated screws and received systemic antitubercular therapy. Clinical evaluations and radiographic analyses were performed after an average follow-up duration of 5.5 years.
Results
The mean time to radiographic bone fusion was 5.6 months. Primary full union was achieved in 25 patients (96.2 %) within 8 months, and the remaining patients achieved bone fusion at 14 months postoperatively. The mean post-operative alignment was 5.4° valgus and 12.5° flexion. The mean leg-length discrepancy was 2.8 cm. The mean VAS score improved from 67.3 before surgery to 16.2 at the last follow-up (
P
 < 0.01), and the mean WOMAC score improved from 58.8 to 13.7 (
P
 < 0.01). The erythrocyte sedimentation rate (ESR) and C-reactive protein level returned to normal in 25 patients by 3 months postoperatively. No recurrence in the target knee was noted.
Conclusions
Single-stage arthrodesis with a unilateral external fixator combined with cannulated screws can be regarded as efficacious for the treatment of end-stage knee TB. Additional studies are necessary to confirm the findings of our study.