09.01.2020 | Original Article | Ausgabe 3/2020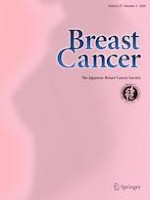 Knockdown of SF3B1 inhibits cell proliferation, invasion and migration triggering apoptosis in breast cancer via aberrant splicing
Zeitschrift:
Autoren:

Ling Zhang, Xiaojuan Zhang, Haitao Zhang, Feng Liu, Yanghui Bi, Yanyan Zhang, Caixia Cheng, Jing Liu
Wichtige Hinweise
Ling Zhang, Xiaojuan Zhang and Haitao Zhang are equal first authors.
Publisher's Note
Springer Nature remains neutral with regard to jurisdictional claims in published maps and institutional affiliations.
Abstract
Background
Splicing factor 3b subunit 1 (SF3B1) was frequently reported to be significantly mutated in breast cancer. However, the status of SF3B1 expression, its function and molecular consequence in breast cancer remained unreported.
Methods
Immunohistochemistry was used to assess SF3B1expression in 110 breast cancer samples. SF3B1 knock‑down in ZR-75-30 and MDA-MB-231 cells was performed by shRNA transfection. The expression of SF3B1 in cells was detected by quantitative real‑time PCR and western blot. Cell proliferation ability was determined by MTT and colony formation assay. Migration and invasion were determined by transwell assay. Flow cytometry was performed to investigate cell cycle and apoptosis. RNA-sequencing was performed to examine differentially expressed genes and affected alternative splicing events.
Results
SF3B1 is overexpressed in breast cancer tissues compared with normal tissues. Overexpression of SF3B1 is associated with lymph node metastasis. SF3B1 knockdown in MDA-MB-231 and ZR-75-30 breast cancer cells significantly induced the suppression of proliferation, migration, invasion and also enhancement of apoptosis. RNA-sequencing data revealed that 860 genes were significantly up-regulated and 776 genes were significantly down-regulated upon SF3B1 knockdown. Differentially expressed genes enriched in the signaling pathways including Ras signaling pathway; cytokine receptor interaction; tight junction; MAPK signaling pathway, Glycine, serine and threonine metabolism. Alternative splicing analysis revealed that exon skipping (SKIP) and cassette exons (MSKIP) were the most common molecular effect upon SF3B1 knockdown.
Conclusions
Our study suggests that SF3B1 may be an important molecular target for breast cancer treatment and provides a new clue for clinical treatment of breast cancer.