01.12.2018 | Research article | Ausgabe 1/2018 Open Access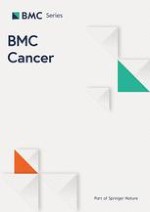 Knockdown of TIPE2 increases the proliferation in lipopolysaccharide-stimulated gastric cancer cells
Zeitschrift:
Autoren:

Wenming Liu, Yanyun Fan, Ying Shi, Zhenhe Lin, Xiaoxiao Huang, Wei Huang, Dongyan Shen, Zhongquan Qi
Wichtige Hinweise
Wenming Liu, Yanyun Fan and Ying Shi contributed equally to this work.
Abstract
Background
Gastric cancer (GC) is one of the most common malignant diseases with high morbidity and mortality, especially in Asian countries. During the GC developing progress, TIPE2, a member of TNF-alpha induced protein 8-like (TNFAIP8L) family, may play important roles. However, the molecular mechanisms of TIPE2 contributing to cell proliferation and tumor growth are poorly understood in GC. We performed flow cytometry to detect the cell cycle of TIPE2-knockdown GC cells under lipopolysaccharide (LPS) stimulation.
Methods
We measured TIPE2 expression in tumor samples from 46 human GC patients at mRNA level by Realtime PCR and in 68 pairs of GC tissues at protein level by immunohistochemistry. We established stable TIPE2 knockdown SGC7901 and BGC823 cell lines and performed CCK-8 and EdU proliferation assays under the stimulation of LPS. And then we analyzed AKT, IκBα and ERK phosphorylation levels, as well as cycle related proteins CDK4 and CyclinD3 in the stable TIPE2 knockdown SGC7901 and BGC823 cells.
Results
Our present studies indicated that the expression of TIPE2 was significantly decreased in tumor tissues compared to distant mucosa tissues in human GC patients. TIPE2 inhibited proliferation stimulated by LPS in SGC7901 and BGC823 cells. Silencing of TIPE2 significantly decreased cell G0/G1 phase ratio and increased G2/M phase. TIPE2 knockdown SGC7901 and BGC823 cells declined AKT and IκBα phosphorylation. TIPE2's action on GC cell cycle was.
Conclusions
Our results demonstrated that TIPE2 is a novel tumor suppressor gene that inhibits GC growth may mediated via AKT and IκBα phosphorylated activation. We revealed that TIPE2 may effectively interdict neoplasm development, which has potential clinical application values for GC targeted therapies.