01.12.2014 | Research article | Ausgabe 1/2014 Open Access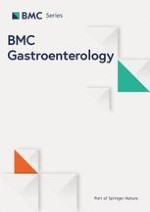 Knockout of MIMP protein in
lactobacillus plantarum

lost its regulation of intestinal permeability on NCM460 epithelial cells through the zonulin pathway
Zeitschrift:
Autoren:

Zhihua Liu, Liang Kang, Chao Li, Chao Tong, Meijin Huang, Xingwei Zhang, Nanqi Huang, Mary Pat Moyer, Huanlong Qin, Jianping Wang
Wichtige Hinweise
Electronic supplementary material
The online version of this article (doi:
10.​1186/​1471-230X-14-171
) contains supplementary material, which is available to authorized users.
Competing interests
The authors declare that they have no competing interests.
Authors' contributions
ZL carried out the molecular biological studies, participated in the binding assay and drafted the manuscript. LK and CL carried out the statistical analysis and revised the manuscript. CT revised the manuscript. MH and XZ participated in the permeability determination. NH and HQ performed the mice study. ZL and JW participated in the design of the study and performed the clinical verification. MPM participated in its design and coordination and helped to draft the manuscript. All authors read and approved the final manuscript.
Abstract
Background
Previous studies indicated that the micro integral membrane protein located within the media place of the integral membrane protein of
Lactobacillus plantarum
CGMCC 1258 had protective effects against the intestinal epithelial injury. In our study, we mean to establish micro integral membrane protein -knockout
Lactobacillus plantarum
(LPKM) to investigate the change of its protective effects and verify the role of micro integral membrane protein on protection of normal intestinal barrier function.
Methods
Binding assay and intestinal permeability were performed to verify the protective effects of micro integral membrane protein on intestinal permeability
in vitro
and
in vivo
. Molecular mechanism was also determined as the zonulin pathway. Clinical data were also collected for further verification of relationship between zonulin level and postoperative septicemia.
Results
LPKM got decreased inhibition of EPEC adhesion to NCM460 cells. LPKM had lower ability to alleviate the decrease of intestinal permeability induced by enteropathogenic-e.coli, and prevent enteropathogenic-e.coli -induced increase of zonulin expression. Overexpression of zonulin lowered the intestinal permeability regulated by
Lactobacillus plantarum
. There was a positive correlation between zonulin level and postoperative septicemia. Therefore, micro integral membrane protein could be necessary for the protective effects of
Lactobacillus plantarum
on intestinal barrier.
Conclusion
MIMP might be a positive factor for
Lactobacillus plantarum
to protect the intestinal epithelial cells from injury, which could be related to the zonulin pathway.