01.12.2017 | Research | Ausgabe 1/2017 Open Access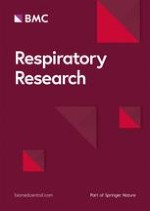 Ku80 correlates with neoadjuvant chemotherapy resistance in human lung adenocarcinoma, but reduces cisplatin/pemetrexed-induced apoptosis in A549 cells
Zeitschrift:
Autoren:

Bin Shang, Yang Jia, Gang Chen, Zhou Wang
Abstract
Background
Ku80 is a DNA repair protein which involves in cell apoptosis and chemoresistance. However, it is unclear whether Ku80 correlates with the efficiency of neoadjuvant chemotherapy in human lung adenocarcinoma, and modulates cisplatin/pemetrexed-induced lung cancer cell apoptosis in vitro.
Methods
We recruited 110 patients with stage IIIA lung adenocarcinoma, who received 2 cycles of neoadjuvant chemotherapy, and their lungs were reevaluated by CT scan. Immunohistochemistry and qRT-PCR was performed to detect the expression level of Ku80. A549 cells were transfected by lentiviral vector containing shRNA and full length cDNA to knockdown or upregulate Ku80 gene expression. CCK8 assay, flow cytometry and Western blot were employed to determine the viability and apoptosis of A549 cells treated with cisplatin combined with pemetrexed.
Results
Ku80 expression was detected in 76 patients (69%). There were 38 patients who responded to chemotherapy, where Ku80 was positively expressed in 7 cases (18.4%). Immunohistochemical score of Ku80 protein in the response group (2.079 ± 1.617) to chemotherapy was lower than that in the nonresponse group (5.597 ± 2.114,
P
 < 0.05). Tissue samples from the nonresponse group exhibited higher Ku80 mRNA levels compared to the response group. Ku80 knockdown by shRNA augmented cisplatin/pemetrexed-induced decline in viability, whereas Ku80 overexpression attenuated viability reduction induced by these drugs compared to control A549 cells. Both flow cytometry and Western blot analysis displayed that the apoptotic rate of Ku80 shRNA-transfected A549 cells was significantly increased compared to control cells treated with cisplatin/pemetrexed, which was lowered by Ku80 overexpression.
Conclusion
Ku80 could predict the probability of resistance to neoadjuvant chemotherapy in lung adenocarcinoma, and reduced cisplatin and pemetrexed-induced apoptosis in A549 cells.