01.11.2010 | Gamete Biology | Ausgabe 11/2010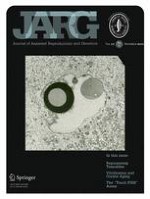 Laboratory evaluation in oocyte cryopreservation suggests retrieved oocytes are comparable whether frozen for medical indications, deferred reproduction or oocyte donation
Zeitschrift:
Autoren:

Marie Werner, Andrea Reh, Patty Ann Labella, Nicole Noyes
Wichtige Hinweise
Capsule
Oocytes from cancer patients seeking fertility preservation are similar to those of healthy women both in quantity and characteristics as viewed by polarized light microscopy.
Abstract
Purpose
To compare pre-cryo data from oocyte cryopreservation (OC) cycles performed for malignancy (MED) vs. elective deferment of reproduction (DR) or oocyte donation (OD).
Methods
All patients were ≤40 y and underwent standard ovarian stimulation and retrieval. Prior to OC, meiotic spindle (MS) and zona pellucida (ZP) retardance was measured using digital polarized light microscopy (DPLM).
Results
Of 130 OC cycles, 49 were for MED, 73 for DR, and 8 for OD. Cycles completed for MED had an average of 9 ± 1 spindle-positive oocytes with a mean MS retardance of 1.2 ± .02 nm and ZP retardance of 2.1 ± .06 nm, which was clinically comparable to the other groups.
Conclusions
Women with malignancy can achieve adequate ovarian response and similar oocyte parameters to those of women undergoing fertility preservation for non-cancer indications. Such information, coupled with the ability to noninvasively study oocyte dynamics, may improve the counseling of cancer patients seeking fertility preservation.