01.12.2017 | Research article | Ausgabe 1/2017 Open Access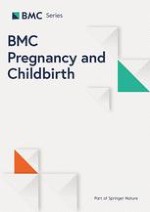 Lack of controlled studies investigating the risk of postpartum haemorrhage in cesarean delivery after prior use of oxytocin: a scoping review
Zeitschrift:
Autoren:

Karin Bischoff, Monika Nothacker, Cornelius Lehane, Britta Lang, Joerg Meerpohl, Christine Schmucker
Wichtige Hinweise
Electronic supplementary material
Abbreviations
PRISMA
Prefered Reporting Items for Systematic Reviews and Meta-Analyses
RCT
Randomized Controlled Trial
WHO
World Health Organization
Background
Postpartum haemorrhage (PPH) is a major cause of maternal mortality and morbidity worldwide [
1
–
4
]. Approximately 36% of all lower segment cesarean deliveries and between 6 and 14% of spontaneous deliveries are complicated by PPH, depending on the definition used and the population studied [
5
–
7
]. Although global mortality from PPH is falling, its incidence is increasing in several high resource settings [
8
,
9
]. In the United States, between 1994 and 2006, the rate of atonic PPH increased by 160% among women undergoing cesarean section after induction of labour and 130% among women undergoing non-induced cesarean section [
10
]. This increase may be explained by the increasing rates of cesarean sections and associated complications caused by general anesthesia, operative techniques or complications such as placental abruption leading to an emergency cesarean section [
8
,
11
–
14
], but also due to an extensive use of uterotonics to induce or augment labour [
7
,
14
].
The most widely used uterotonic drug for augmenting labour or to maintain uterine contractility during labour is oxytocin [
15
,
16
]. Oxytocin, which was first synthetically synthesized in 1953 is also the first choice in the prevention and treatment of uterine atony [
17
]. When given in low-dose, oxytocin induces rhythmic uterine contractions which are indistinguishable in frequency, duration and strength from contractions observed during spontaneous labour [
18
,
19
]. On the other hand, oxytocin for inducing or augmenting labour may desensitise the oxytocin receptors, thereby impairing oxytocin's post-delivery effects on uterine contractility [
18
]. For example, Balki et al. showed in different in vitro studies that pretreatment with oxytocin decreases oxytocin-induced myometrial contractions in pregnant humans and animals [
20
–
22
]. In addition, Grotegut et al. conducted a retrospective study on women who experienced severe PPH and found that these women received significantly greater amounts of oxytocin during labour compared with women without PPH, suggesting that prolonged pre- or intrapartum exposure to oxytocin might lead to decreased drug efficacy [
23
]. Similarly, Belghiti et al. investigated in a population-based case-control study the association between the level of oxytocin exposure during labour and the risk of severe atonic PPH [
24
,
25
]. The study showed that oxytocin exposure during labour appears to be an independent risk factor for severe PPH in woman with spontaneous labour who did not receive prophylactic oxytocin after delivery (odds ratio after adjustment for all potential confounders [adjusted OR]: 1.8, 95% CI 1.3 to 2.6). Thereby, the strength of the association increased with the amount of oxytocin infused during labour [
24
,
25
].
Considering that PPH rates are higher in cesarean section compared to spontaneous labour [
7
], particularly labouring women requiring cesarean delivery may constitute a subset of patients that may exhibit a negative response to exogenous oxytocin [
14
–
16
]. Therefore, we mapped the current literature for controlled clinical studies investigating the risk of atonic PPH in labouring women requiring cesarean delivery (intrapartum cesarean section) after oxytocin use for labour induction or augmentation in comparison to no exogenous oxytocin.
Methods
Sources
We adhered to the Preferred Reporting Items for Systematic reviews and Meta-Analyses (PRISMA) protocol for identifying, screening and eligibility of studies to conduct the present research work [see Additional file
1
].
We searched for controlled clinical studies investigating exogenous oxytocin in cesarean delivery, irrespective of delivery indication, age, comorbidity or woman's parity. Primary maternal outcomes, we were interested in, included PPH rates, adverse effects or the need for additional uterotonics. In addition we collated any neonatal outcomes reported. A review protocol can be accessed from the corresponding author (CS).
Published studies were identified from searches of electronic databases. We searched Medline (OvidSP), Embase, Web of Science, the Cochrane library from inception until May 2016. The search strategy was based on combinations of medical subject headings (MeSH) and keywords and was not restricted to specific languages. The search strategy used in Medline (OvidSP) is presented in an additional file [see Additional file
2
]. Search strategies for other databases were modified to meet the requirements of each database. The searches were supplemented by screening the bibliographies of relevant studies and systematic reviews. Potential ongoing studies were identified in the International Clinical Trials Registry Platform WHO (
http://​www.​who.​int/​ictrp/​en/​
) and the Register for Clinical Trials (
http://​clinicaltrials.​gov
/).
Study selection
One author (KB) screened the titles and abstracts of all reports identified by electronic searches. We obtained full-text copies of all potentially relevant articles and 2 reviewers (KB, CS) assessed them for inclusion. These authors also independently carried out data extraction for key characteristics of the study, participant and intervention.
Data analysis (mapping the evidence)
First, study characteristics such as country, study design, details of the intervention and control intervention, time point of drug application, week of gestation, sample size, age and indication for cesarean section were extracted and tabulated. Second, we looked whether the given PPH rates were stratified after the indication for cesarean delivery and/or when only women with intrapartum cesarean section were included whether the results were stratified after the use of oxytocin versus no oxytocin before surgery. By considering key characteristics of all studies investigating oxytocin in cesarean section, evidence gaps for a subset of women could be identified and a narrative description of the current literature provided.
Results
Discussion
Conclusions
Considering that research on the risk of PPH after oxytocin exposure is generally restricted to the use of PPH prophylaxis and vaginal births, future controlled studies should evaluate whether administration of oxytocin in cesarean delivery is associated with a higher risk of PPH taking into account that labouring and non-labouring women may show a difference response to exogenous oxytocin. In addition, these studies should control for known confounding factors associated with a higher risk of PPH such as multiple pregnancy, assisted reproductive technologies, general anaesthesia, type of uterine incision or advanced maternal age [
6
,
13
,
14
,
72
]. As long as there is no evidence-based guideline available for labouring women requiring cesarean delivery, obstetricans and anaesthesiologists should always be aware of an increased risk of PPH due to prior oxytocin exposure in this patient population.
Acknowledgements
This project was initiated by the German Society for Gynecology and Obstetrics to answer a clinical question for the multidisciplinary expert group of the German evidence- and consensus-based guideline project "Sectio Cesarea" (AWMF-Registry number 015-084, coordinator: Prof. Dr. med. F. Louwen). The authors also thank Edith Motschall from the University of Freiburg for conducting the comprehensive systematic literature search and Katharina Kunzweiler (Cochrane Germany) for conducting the search for ongoing studies in the study registries.
Funding
This project was funded by the German Federal Ministry of Health, #GE20160425. The funders had no role in the conduct or reporting of the scoping review.
Availability of data and materials
All data presented in this scoping review were identified through database searches outlined in the methods section.
Ethics approval and consent to participate
Not applicable – scoping review.
Consent for publication
Not applicable – scoping review.
Competing interests
The authors declare that they have no competing interests.
Publisher's Note
Springer Nature remains neutral with regard to jurisdictional claims in published maps and institutional affiliations.
Open Access
This article is distributed under the terms of the Creative Commons Attribution 4.0 International License (
http://​creativecommons.​org/​licenses/​by/​4.​0/​
), which permits unrestricted use, distribution, and reproduction in any medium, provided you give appropriate credit to the original author(s) and the source, provide a link to the Creative Commons license, and indicate if changes were made. The Creative Commons Public Domain Dedication waiver (
http://​creativecommons.​org/​publicdomain/​zero/​1.​0/​
) applies to the data made available in this article, unless otherwise stated.