01.12.2017 | Research | Ausgabe 1/2017 Open Access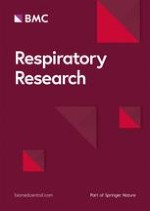 Lack of SOCS3 increases LPS-induced murine acute lung injury through modulation of Ly6C(+) macrophages
Zeitschrift:
Autoren:

Zhilong Jiang, Zhihong Chen, Liyang Li, Wenjun Zhou, Lei Zhu
Abstract
Background
SOCS3 (suppressor of cytokine signaling 3) is a negative regulator of JAK/STAT3 signaling pathway and participates in the regulation of lung inflammation in a mouse model with acute lung injury (ALI). However, it is not well understood how SOCS3 regulates lung inflammation in the ALI mouse model.
Method
In the present study, we investigated the effects of SOCS3 on modulation of Ly6C(+) monocyte phenotypes in a mouse model with lipopolysaccharide (LPS)-induced ALI. Conditional SOCS3(Lyz2cre) mice with myeloid cell-restricted depletion of SOCS3 gene were created by breeding transgenic Lyz2Cre mice with SOCS3(fl/fl) mice. Wilde-type (WT) and SOCS3(Lyz2cre) mice were intratracheal instilled with 5 mg/kg LPS for 2 days. Lung, bronchoalveolar lavage (BAL) and blood were collected for analysis by flow cytometry, ELISA, qRT-PCR and Western blot analysis.
Results
The studies in the ALI mouse model revealed that myeloid cell-restricted SOCS3 deficiency exacerbated the severity of ALI as compared to the WT mice. The increased severity of ALI in SOCS3-deficient mice was associated with higher populations of neutrophils, T lymphocytes and Ly6C(+) monocytes in the inflamed lung tissues. In addition, CCR2 and CXCL15 were elevated, and accompanied by greater expression and activation of STAT3 in the lung of SOCS3-deficient mice. SOCS3-deficient bone marrow-derived macrophages (BMDMs) expressed a higher amount of TNF-alpha, and adoptive transfer of the SOCS3-deficient Ly6C(+) BMDMs into WT mice enhanced the severity of ALI than adoptive transfer of WT control BMDMs. However, depletion of Ly6C(+) circulating monocytes by anti-Ly6C(+) neutralizing antibody moderately attenuated neutrophil infiltration and resulted in lower prevalence of Ly6C(+) cells in the lung of treated mice.
Conclusion
Myeloid cell-restricted lack of SOCS3 induced more severe ALI through modulation of Ly6C(+) subtype macrophages. The results provide insight into a new role of SOCS3 in modulation of Ly6C(+) monocyte phenotypes and provide a novel therapeutic strategy for ALI by molecular intervention of macrophages subtypes.