01.12.2018 | Research article | Ausgabe 1/2018 Open Access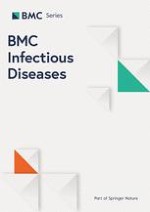 Landscape and rodent community composition are associated with risk of hemorrhagic fever with renal syndrome in two cities in China, 2006–2013
Zeitschrift:
Autoren:

Hong Xiao, Xin Tong, Ru Huang, Lidong Gao, Shixiong Hu, Yapin Li, Hongwei Gao, Pai Zheng, Huisuo Yang, Zheng Y. X. Huang, Hua Tan, Huaiyu Tian
Abstract
Background
Hemorrhagic fever with renal syndrome (HFRS) is a rodent-borne disease caused by hantaviruses. Landscape can influence the risk of hantavirus infection for humans, mainly through its effect on rodent community composition and distribution. It is important to understand how landscapes influence population dynamics for different rodent species and the subsequent effect on HFRS risk.
Methods
To determine how rodent community composition influenced human hantavirus infection, we monitored rodent communities in the prefecture-level cities of Loudi and Shaoyang, China, from 2006 to 2013. Land use data were extracted from satellite images and rodent community diversity was analyzed in 45 trapping sites, in different environments. Potential contact matrices, determining how rodent community composition influence HFRS infection among different land use types, were estimated based on rodent community composition and environment type for geo-located HFRS cases.
Results
Apodemus agrarius
and
Rattus norvegicus
were the predominant species in Loudi and Shaoyang, respectively. The major risk of HFRS infection was concentrated in areas with cultivated land and was associated with
A. agrarius
,
R. norvegicus
, and
Rattus flavipectus
. In urban areas in Shaoyang,
Mus musculus
was related to risk of hantavirus infection.
Conclusions
Landscape features and rodent community dynamics may affect the risk of human hantavirus infection. Results of this study may be useful for the development of HFRS prevention initiatives that are customized for regions with different geographical environments.