01.12.2015 | Technical advance | Ausgabe 1/2015 Open Access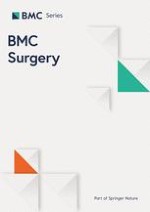 Laparoscopic CBD exploration using a V-shaped choledochotomy
Zeitschrift:
Autoren:

Eun Young Kim, Soo Ho Lee, Jun Suh Lee, Tae Ho Hong
Wichtige Hinweise
Competing interests
The authors declare that they have no competing interests.
Authors' contributions
THH conceived and designed the study. EYK, SHL, and JSL were responsible for data collection and writing the article. EYK and THH have made major contributions to analysis and interpretation. All authors have read, edited, and approved the final manuscript.
Abstract
Background
Laparoscopic common bile duct exploration (LCBDE) is a treatment modality for choledocholithiasis. The advantages of this technique are that it is less invasive than conventional open surgery and it permits single-stage management; however, other technical difficulties limit its use. The aim of this article is to introduce our novel technique for LCBDE, which may overcome some of the limitations of conventional LCBDE.
Since December 2013, ten patients have undergone LCBDE using a V-shaped choledochotomy (V-CBD). After the confluence of the cystic duct and the CBD were exposed, a V-shaped incision was made along the medial wall of the cystic duct and the lateral wall of the common hepatic duct, which comprise two sides of Calot's triangle. The choledochoscope was inserted into the lumen of the CBD through a V-shaped incision, and all CBD stones were retrieved using a basket or a Fogarty balloon catheter or were irrigated with saline. After CBD clearance was confirmed using the choledochoscope, the choledochotomy was closed with the bard absorbable suture material known as V-loc.
Results
The diameter of the CBD ranged from 8 to 30 mm, and the mean size of the stones was 11.6 ± 8.4 mm. The mean operative time was 97.8 ± 30.3 min, and the mean length of the postoperative hospital stay was 6.0 ± 4.6 days. All patients recovered without any postoperative complications, except for one patient who developed postoperative pancreatitis. No conversions to laparotomy were observed, and there were no recurrent stones and no need of T-tube insertion.
Conclusions
This report suggests that our novel technique, known as V-CBD, may represent a feasible and straightforward procedure for treating choledocholithiasis, especially when the CBD is not dilated.