27.03.2020 | Ausgabe 3/2021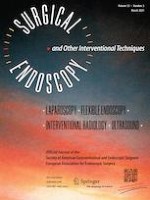 Laparoscopic duodenum-preserving total pancreatic head resection using real-time indocyanine green fluorescence imaging
Zeitschrift:
Autoren:

Yunqiang Cai, Zhenjiang Zheng, Pan Gao, Yongbin Li, Bing Peng
Wichtige Hinweise
Yunqiang Cai and Zhenjiang Zheng contributed equally to this study.
Publisher's Note
Springer Nature remains neutral with regard to jurisdictional claims in published maps and institutional affiliations.
Abstract
Background
It is technical challenging to perform laparoscopic duodenum-preserving pancreatic head resection (LDPPHR). Only a few case reports and case series of LDPPHR are available in the literature.
Materials and methods
From February 2019 to November 2019, 24 cases of LDPPHR were carried out in the Department of Pancreas Surgery, West China Hospital, Sichuan University. Data were prospectively collected in terms of demographic characteristics (age, gender, BMI, and pathological diagnosis), intraoperative variables (operative time, estimated blood loss, transfusion, pancreatic texture, and diameter of main pancreatic duct), and post-operative variables (time for oral intake, post-operative hospital stay, and complications).
Results
Nine male patients and fifteen female patients were included in this study. The median age of these patients was 43 years. All patients underwent duodenum-preserving total pancreatic head resection laparoscopically. The median operative time was 255 min. The median estimated blood loss was 200 ml. One patient required blood transfusion. The median post-operative hospital stay was 10 days. Three patients suffered from biliary fistula. Eleven patients (45.8%) suffered from pancreatic fistula; however, only one patient (4.2%) suffered from grade B pancreatic fistula. No patient suffered from grade C pancreatic fistula. One patient with chronic pancreatitis required re-operation for jejunal anastomotic bleeding on the first post-operative day. No patient suffered from gastroparesis, duodenal necrosis, or abdominal bleeding. The 30-day mortality was 0.
Conclusion
LDPPHR is safe and feasible. Real-time indocyanine green fluorescence imaging may help prevent bile duct injury and bile leakage.