01.12.2017 | Research article | Ausgabe 1/2017 Open Access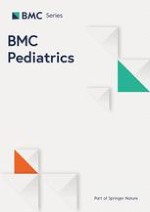 Laparoscopic resection of neuroblastomas in low- to high-risk patients without image-defined risk factors is safe and feasible
Zeitschrift:
Autoren:

Chiyoe Shirota, Takahisa Tainaka, Hiroo Uchida, Akinari Hinoki, Kosuke Chiba, Yujiro Tanaka
Abstract
Background
Several studies have reported that minimally invasive surgery (MIS) might be considered for resecting neuroblastomas without image-defined risk factors (IDRFs); however, there are no studies comparing the outcomes of laparotomy and laparoscopy in IDRF-negative patients. Thus, we investigated the feasibility of laparoscopic surgery and compared the two abovementioned approaches.
Methods
To compare the effects of laparotomy with those of laparoscopy in patients with neuroblastomas without IDRFs, the following items were retrospectively compared: largest tumor dimension, volume of blood loss, time required to initiate postoperative feeding, locoregional recurrence rate, survival, etc.
Results
Nine patients without IDRFs (three at low-to-medium risk and six at high risk) underwent laparotomy, and seven patients without IDRFs (two at low-to-medium risk and five at high risk) underwent laparoscopy. Median duration of surgery was 221 (130–304) and 172 (122–253) min in the laparotomy and laparoscopy groups, respectively, showing no significant difference. Median postoperative time required for resuming meal consumption was significantly longer in the laparotomy (4 days; 2–5) group than that in the laparoscopy group (3 days; 2–3;
p
 = 0.023). Median blood loss was significantly higher in the laparotomy group (5 ml/Kg;2.6–16) than that in the laparoscopy group (2.1 ml/Kg;0.1–4.0;
P
 = 0.037). Median follow-up period was 81 (52–94) and 21 (17–28) months, locoregional recurrence rates were 22 and 0% at 1 year, 1-year progression-free survival rates were 78 and 100%, and overall survival rates were 67 and 100% in the laparotomy and laparoscopy groups, respectively, with no significant differences.
Conclusions
MIS for the treatment of neuroblastomas without IDRFs in low- to high-risk patients is safe and feasible and does not compromise the treatment outcome.