27.02.2019 | Original Article | Ausgabe 12/2019 Open Access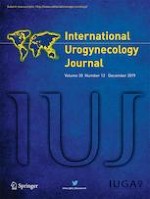 Laparoscopic sacrocolpopexy posthysterectomy: intraoperative feasibility and safety in obese women compared with women of normal weight
Zeitschrift:
Autoren:

Charlotte Mahoney, Georgina Scott, Lucy Dwyer, Fiona Reid, Karen Ward, Anthony Smith, Rohna Kearney
Wichtige Hinweise
Publisher's note
Springer Nature remains neutral with regard to jurisdictional claims in published maps and institutional affiliations.
Abstract
Introduction and hypothesis
Our aim was to determine the intraoperative feasibility and complication rate of laparoscopic sacrocolpopexy (LSC) in overweight and obese women compared with women of normal weight.
Methods
This was a retrospective observational cohort study (Canadian Task Force classification II-2) conducted at a tertiary urogyaenocology unit evaluating 119 women who underwent LSC between March 2005 and January 2013.
Results
Body mass index (BMI) was classified as normal (22.89 ± 1.55), overweight (27.12 ± 1.40) and obese (33.47 ± 3.26) according to the World Health Organisation (WHO) classification. There was no difference in intraoperative complication rates for bladder, bowel, ureteric or vascular injury; haemorrhage; conversion to laparotomy; or anaesthetic complications for normal weight, overweight or obese women. Similarly there was no difference in operating time, duration of anaesthetic or hospital stay between BMI class (
p
 = 0.070,
p
 = 0.464,
p
 = 0.898, respectively) postoperative or mesh complication rates. At 6-months' follow-up, there was no difference in Patient Global Impression of Improvement scale (PGI-I) (defined as very much better or much better) between normal weight, overweight and obese women (76.9, 72 and 65.4%,
p = .669
) or objective cure using the Pelvic Organ Prolapse Quantification (POP-Q) examination (
p = 0.402
).
Conclusions
LSC is feasible, with equivalent intraoperative complication rates for normal weight, overweight and obese women when performed by experienced laparoscopic urogynaecologists. Given the benefits of a laparoscopic approach in obese women, the authors suggest they should be offered LSC as an option to treat vault prolapse when surgical management is being considered.