01.12.2015 | Research article | Ausgabe 1/2015 Open Access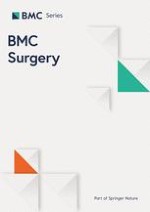 Laparoscopic transperitoneal lateral adrenalectomy for malignant and potentially malignant adrenal tumours
Zeitschrift:
Autoren:

Michał Pędziwiatr, Mateusz Wierdak, Michał Natkaniec, Maciej Matłok, Magdalena Białas, Piotr Major, Piotr Budzyński, Alicja Hubalewska-Dydejczyk, Andrzej Budzyński
Wichtige Hinweise
Competing interests
The authors have no competing interests to declare.
Authors' contributions
MP carried out the analysis and interpretation of data, participated in the conception and design of the work, and drafted the article. MW participated in the acquisition and interpretation of data and critically revised the manuscript. MN, MM, MB, PM participated in the acquisition and interpretation of data as well as patients management. PB participated in the analysis and interpretation of data and patients follow-up. AHD participated in data collection, patients management and follow-up. AB performed most of surgeries and participated in the conception and design of the study, he also revised the manuscript. All authors read and approved the final manuscript.
Authors' information
MP
– MD, PhD – laparoscopic surgeon, interested in adrenal and colorectal surgery, Enhanced Recovery After Surgery Program coordinator in his Department.
MW
– MD - surgeon and physiologist, writing his PhD thesis on pathophysiology of adrenals.
MM –
MD, PhD - laparoscopic surgeon, involved in bariatric surgery as well as research on perioperative metabolic stress.
MB
– MD, PhD
,
pathologist – an expert in histopathology of adrenals.
MN –
MD, surgeon, statistician.
PM –
MD, PhD - laparoscopic surgeon.
PB –
MD, PhD – endocrine surgeon.
AHD
– Prof., Head of the Department of Endocrinology, Especially interested in adrenal tumors and neuroendocrine disorders.
AB –
Prof., Head of the Department of Surgery, laparoscopic surgeon with enormous expertise in laparoscopy. He has performed more than 370 adrenalectomies. He is also an expert in laparoscopic surgery of the stomach, colon, rectum and the spleen. He was first to perform laparoscopic total pancreatoduodenectomy and laparoscopic hemihepatectomy in our country. An outstanding teacher.
Abstract
Background
Laparoscopic adrenalectomy is still controversial in cases where malignancy is suspected. However, many proponents of this technique argue that in the hands of an experienced surgeon, laparoscopy can be safely performed. The aim of this study is to present our own experience with the application of laparoscopic surgery for the treatment of malignant and potentially malignant adrenal tumours.
Methods
Our analysis included 52 patients who underwent laparoscopic adrenalectomy in 2003–2014 due to a malignant or potentially malignant adrenal tumour. Inclusion criteria were primary adrenal malignancy, adrenal metastasis or pheochromocytoma with a PASS score greater than 6. We analyzed the conversion rate, intra- and postoperative complications, intraoperative blood loss and R0 resection rate. Survival was estimated using the Kaplan-Meier method.
Results
Conversion was necessary in 5 (9.7 %) cases. Complications occurred in a total of 6 patients (11.5 %). R0 resection was achieved in 41 (78.8 %) patients and R1 resection in 9 (17.3 %) patients. In 2 (3.9 %) cases R2 resection was performed. The mean follow-up time was 32.9 months. Survival depended on the type of tumour and was comparable with survival after open adrenalectomy presented in other studies.
Conclusions
We consider that laparoscopic surgery for adrenal malignancy can be an equal alternative to open surgery and in the hand of an experienced surgeon it guarantees the possibility of noninferiority. Additionally, starting a procedure with laparoscopy allows for minimally invasive evaluation of peritoneal cavity. The key element in surgery for any malignancy is not the surgical access itself but the proper technique.