09.01.2020 | Review Article | Ausgabe 5/2020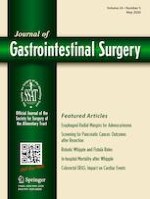 Large-for-Size Orthotopic Liver Transplantation: a Systematic Review of Definitions, Outcomes, and Solutions
Zeitschrift:
Autoren:

Pietro Addeo, Vincent Noblet, Benoit Naegel, Philippe Bachellier
Wichtige Hinweise
Publisher's Note
Springer Nature remains neutral with regard to jurisdictional claims in published maps and institutional affiliations.
Abstract
Background
We systematically reviewed the literature on definitions and outcomes of large-for-size (LFS) syndrome in orthotopic liver transplantation (LT).
Methods
This systematic review was conducted according to the Preferred Reporting Items for Systematic Reviews and Meta-Analyses (PRISMA) guidelines. The Cochrane Library, PubMed, and Embase were searched (January 1990–January 2019) for studies reporting LFS in LT. Primary outcomes were definitions and mortality of LFS LT.
Results
Eleven studies reporting patients with LFS LT were identified. Four different formulas (graft-to-recipient weight ratio (GRWR), body surface area index (BSAi), donor standardized total liver volume (sTLV)–to–recipient sTLV ratio, and graft weight/right anteroposterior distance (RAP) ratio) with their critical thresholds were found. There were 81 patients (54% women) with a median weight and height of 62.5 kg (range, 40–105 kg) and 165 cm (range, 145–180 cm). The median graft weight was 1772 g (range, 1290–2400 g), and the median GWRW was 2.77% (range, 2.1–4.00%). Graft venous outflow obstruction was described in seven patients (8.6%). At the time of LT, fascial closure was not achieved in 24 patients (29.6%) and the graft size was reduced by a liver resection in three patients (3.7%). Thirteen deaths (16%) were reported in the first 90 postoperative days with two patients undergoing re-transplant.
Conclusions
LFS LT remains heterogeneously defined but characterized by high mortality rates despite the use of tailored surgical solutions (graft reduction and open abdomen). A composite definition is proposed in order to better describe LFS clinical syndrome.