28.08.2018 | Review article | Sonderheft 2/2018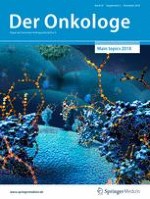 Late adverse outcomes after treatment of testicular cancer
Zeitschrift:
Autoren:

Professor em. S. D. Fosså, C. Fung, A. A. Dahl
Abstract
Background
Modern oncological treatment has rendered testicular cancer (TC) a curative malignant disease but there is a risk of decreasing survival and reduced health-related quality of life (HR-QoL) related to long-term adverse health outcomes (AHOs).
Aim
To provide an overview on AHOs after oncological treatment of TC.
Material and methods
Summary of published studies and previous reviews.
Results
Relative survival rates decrease among TC survivors 25 years after diagnosis, mainly due to treatment-related second cancer and/or cardiovascular disease, the latter mediated by components of the metabolic syndrome. With increasing age cisplatin-induced ototoxicity becomes a clinical problem in patients, whereas reported peripheral neurotoxicity only exceptionally achieves major clinical relevance. Anxiety but not depression represents the dominating psychological problem. In most patients HR-QoL is good, but working ability may be reduced by very intensive treatment.
Conclusion
Awareness of long-term AHOs among TC survivors and health professionals can contribute to reduce long-term morbidity and mortality and to improve QoL by initiating early preventive and therapeutic measures. Radiotherapy should be avoided as much as possible during risk-adapted treatment of TC. Existing data indicate premature aging among strongly treated TC survivors but larger studies and longer follow-up in longitudinal studies are required to confirm these preliminary observations.