30.04.2016 | Original Article | Ausgabe 4/2016 Open Access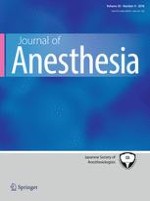 Lateral deviation of four types of epidural catheters from the lumbar epidural space into the intervertebral foramen
Zeitschrift:
Autoren:

Tetsuya Uchino, Masahiro Miura, Yoshimasa Oyama, Shigekiyo Matsumoto, Chihiro Shingu, Takaaki Kitano
Abstract
Background
During epidural anesthesia, the catheter tip occasionally deviates from the epidural space into the intervertebral foramen, resulting in inadequate anesthesia.
Methods
During postoperative plain radiography, iohexol was injected via the epidural catheter to determine its position and to observe the spread of the material. After exclusion of seven patients with catheters that migrated into the subcutaneous area and 25 patients with no evidence of the contrast medium, 415 patients were evaluated. We retrospectively compared patients to determine whether the incidence of deviation into the intervertebral foramen differed between four types of epidural catheters. We also investigated the load applied to the catheter tip using a Shimadzu Autograph AG-X-500 N-111 universal testing machine.
Results
Deviation of the epidural catheter into the intervertebral foramen was observed in eight and 33 patients in the Hakko and Perifix Soft tip catheter groups, respectively. The incidence of deviation was higher in the Perifix Soft tip catheter group, and lower in the FlexTip Plus and Perifix FX catheter groups. A rapid increase was observed in the force exerted on the tips of the Hakko and Perifix Soft tip catheters, while the force transmitted to the tips of the FlexTip Plus and Perifix FX catheters gradually increased and then reached a plateau at a low level.
Conclusions
The incidence of deviation was significantly lower with spiral-type catheters than with other types of catheters. This might be attributable to the gradual transmission of a lower level of force to the tip in spiral-type catheters.