15.04.2020 | Leitthema | Ausgabe 6/2020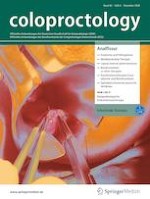 Lateral internal sphincterotomy (LIS)—still top gun in chronic anal fissure treatment?
Spotlight on a disputed technique
Zeitschrift:
Autoren:

MD M. Holzgang, D. Jayne
Abstract
Background
Anal fissure is one of the most common proctological complaints. If the fissure persists for more than 6–8 weeks, it is termed a chronic fissure and will most likely need surgical intervention. Surgical partial transection of the internal sphincter muscle, lateral internal sphincterotomy (LIS), is still seen as the gold standard procedure for chronic anal fissure in many parts of the world, especially in the Anglo-American community. In contrast, the German-speaking surgical community favors fissurectomy ± application of Botox, as some studies report high postoperative incontinence rates after LIS.
Objective
This paper aims to give an overview of the literature on LIS and its outcomes and answer the question, "Is LIS still the gold standard surgical approach for chronic anal fissure?"
Material and methods
A literature search for "sphincterotomy," "internal sphincter," and "anal fissure" was performed in PubMed. For the purpose of this overview article, randomized controlled trials (RCTs), meta-analyses, up-to-date guidelines, and retrospective cohort studies were taken into account.
Results and conclusion
LIS produces excellent rates of fissure healing (~95%), quick symptom relief, and high patient satisfaction. Incontinence after LIS is mostly described as mild and transient. In the authors' view, open LIS is therefore rightfully still the gold standard procedure for treatment of chronic anal fissure in the majority of patients. A conservative approach with limited division of internal sphincter muscle is preferred. For patients with preexisting sphincter weakness and an increased risk of incontinence, further preoperative diagnostic assessment (anal manometry, endoanal ultrasound) is recommended. In this high-risk group, alternative surgical options might be preferred.