14.12.2017 | Original Paper | Ausgabe 4/2018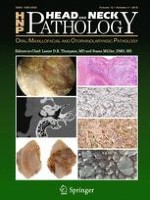 LEF-1 is a Sensitive Marker of Cribriform Morular Variant of Papillary Thyroid Carcinoma
Zeitschrift:
Autoren:

Shalini Mohindra, Hany Sakr, Charles Sturgis, Deborah J. Chute
Wichtige Hinweise
Presented as a poster at the USCAP meeting in San Antonio, TX in March 2017.
Abstract
Cribriform morular variant of PTC (CMV-PTC) frequently shows activation of the CTNNB1/Wnt pathway with nuclear accumulation of beta catenin. The utility of LEF-1, also in the CTNNB1/WNT pathway, in the diagnosis of CMV-PTC has not been previously studied. LEF-1 immunohistochemistry was performed on seven CMV-PTC, 52 benign cases and 101 malignant thyroid neoplasms. LEF-1 was scored by stain intensity (0 = no nuclear stain, 1 = weak nuclear stain, less than lymphocyte and 2 = strong nuclear stain, intense as lymphocyte) and percentage of positive cells at each intensity, for a maximum total score of 200. Sensitivity and specificity of LEF-1 stain for all cases and to differentiate between regular PTC and CMV-PTC was also calculated. Six of the seven CMV-PTCs showed ≥ 30% strong (2+) nuclear LEF-1 staining and a total score over 100. Beta catenin also showed strong and diffuse nuclear staining in these cases. One CMV-PTC was negative for both LEF-1 and beta catenin and did not have a history of FAP. All control PTC cases uniformly lacked LEF-1 staining at 2+ intensity. LEF-1 had a sensitivity of 86% and specificity of 98% for the diagnosis of CMV-PTC. LEF-1 is highly sensitive and specific marker for CMV-PTC, especially when used in the setting of a PTC neoplasm. The pattern of staining is important with ≥ 30% of cells showing strong 2+ nuclear staining having the highest combined sensitivity and specificity.