01.12.2012 | Research | Ausgabe 1/2012 Open Access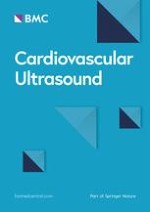 Left ventricular markers of global dyssynchrony predict limited exercise capacity in heart failure, but not in patients with preserved ejection fraction
Zeitschrift:
Autoren:

Gani Bajraktari, Arlind Batalli, Afrim Poniku, Artan Ahmeti, Rozafa Olloni, Violeta Hyseni, Zana Vela, Besim Morina, Rina Tafarshiku, Driton Vela, Premtim Rashiti, Edmond Haliti, Michael Y Henein
Wichtige Hinweise
Electronic supplementary material
The online version of this article (doi:
10.​1186/​1476-7120-10-36
) contains supplementary material, which is available to authorized users.
Competing interest
The authors declare that they have no competing interests.
Abstract
Background
The aim of this study was to prospectively examine echocardiographic parameters that correlate and predict functional capacity assessed by 6 min walk test (6-MWT) in patients with heart failure (HF), irrespective of ejection fraction (EF).
Methods
In 147 HF patients (mean age 61 ± 11 years, 50.3% male), a 6-MWT and an echo-Doppler study were performed in the same day. Global LV dyssynchrony was indirectly assessed by total isovolumic time - t-IVT [in s/min; calculated as: 60 – (total ejection time + total filling time)], and Tei index (t-IVT/ejection time). Patients were divided into two groups based on the 6-MWT distance (Group I: ≤300 m and Group II: >300 m), and also in two groups according to EF (Group A: LVEF ≥ 45% and Group B: LVEF < 45%).
Results
In the cohort of patients as a whole, the 6-MWT correlated with t-IVT (r = −0.49, p < 0.001) and Tei index (r = −0.43, p < 0.001) but not with any of the other clinical or echocardiographic parameters. Group I had lower hemoglobin level (p = 0.02), lower EF (p = 0.003), larger left atrium (p = 0.02), thicker interventricular septum (p = 0.02), lower A wave (p = 0.01) and lateral wall late diastolic myocardial velocity a' (p = 0.047), longer isovolumic relaxation time (r = 0.003) and longer t-IVT (p = 0.03), compared with Group II. In the patients cohort as a whole, only t-IVT ratio [1.257 (1.071-1.476), p = 0.005], LV EF [0.947 (0.903-0.993), p = 0.02], and E/A ratio [0.553 (0.315-0.972), p = 0.04] independently predicted poor 6-MWT performance (<300 m) in multivariate analysis. None of the echocardiographic measurements predicted exercise tolerance in HFpEF.
Conclusion
In patients with HF, the limited exercise capacity, assessed by 6-MWT, is related mostly to severity of global LV dyssynchrony, more than EF or raised filling pressures. The lack of exercise predictors in HFpEF reflects its multifactorial pathophysiology.