27.07.2017 | Original Article | Ausgabe 9/2017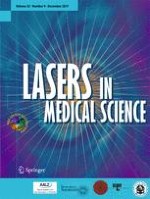 Leishmanicidal effect of antiparasitic photodynamic therapy—ApPDT on infected macrophages
Zeitschrift:
Autoren:

Susana de Oliveira, Evaristo João da Ordem Trahamane, Juliana Monteiro, Gustavo Pires Santos, Pedro Crugeira, Fernando Sampaio, Camila Oliveira, Manoel Barral Neto, Antônio Pinheiro
Abstract
The aim of this study is to evaluate the effects of ApPDT (antiparasitic photodynamic therapy) on the interaction of
Leishmania braziliensis
with J774 macrophages, used as a photosensitizer, methylene blue associated with red laser. The tests are in triplicate and the samples divided into four groups: control, photosensitizer, laser, and ApPDT. The photosensitizer used was the methylene blue at concentration of 12.5 μg/mL. The parameters of the laser were
λ
= 660 nm, 40 mW, and 8.4 J/cm
2
. Samples are analyzed by optical microscopy through the identification and counting of infected and uninfected macrophages, parasite load, infectivity, and infection index. Statistical analysis used ANOVA test with Tukey post-test, being considered statistically significant
p
< 0.05. The analysis of the interaction tests shows that the infection rate in the ApPDT group in relation to the control group presents a statistically significant reduction (
p <
0.0001) of 71% at both 24 and 48 h (
p
< 0.0001) of 62%. ApPDT reduces the number of macrophages infected by
Leishmania braziliensis
, as well as the number of intracellular parasites, being a possible alternative therapy in the treatment of cutaneous leishmaniosis.