01.09.2009 | Clinical Article | Ausgabe 9/2009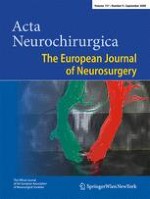 Lessons learned by personal failures in aneurysm surgery: what went wrong, and why?
Zeitschrift:
Autor:

Knut Wester
Wichtige Hinweise
Comment
Centralisation, subspecialisation, and before that studying and seeing masters at work (1, 2, 3). These are the key elements when trying to master and learn new techniques. The time of 'general', 'average' or 'multi-purpose' neurosurgeons doing everything including aneurysm clipping is over at least in the Western world.
Violinists and pianists start their careers very early on in comparison to neurosurgeons who have to before getting out of medical school waste time studying many irrelevant things instead of developing their manual skills before it may be too late. Interestingly, nobody measures manual or motor skills but everyone knows that some people develop to play the violin better than the other like there are marked differences between neurosurgeons.
Notably, one does not need to start from scratches anymore as there are (and have been) textbooks, articles, videos/DVDs and cadaver courses together with experimental lab work to learn approaches and techniques. Travelling to see masters at work has always been possible, even in the 'old days'. Musicians have been doing that for ages to be better. In neurosurgery, there has always been some special centers of excellence in a particular field worth visiting which in modern wealthy societies like Norway is relatively easily arrange-able and not really a question of money. Also, patients can easily be transferred to a few dedicated neurovascular centers in a rather small country with ambulances, helicopters or airplanes.
What is the message of this paper? Honest analysing and reporting of complications and difficulties is of utmost importance, we live and we learn. However, with subspecialisation under guidance by masters (e.g. fellowships even outside one's own department or country) one may avoid unnecessary repeating of some of them. Nowadays, a dedicated neurovascular team should take care of vascular lesions for the maximum benefit of the patients.
1. Hernesniemi J, Niemelä M, Kivipelto L, Ishii K, Rinne J, Ronkainen J, Kivisaari R, Shen H, Karatas A, Lehecka M, Frösen J, Piippo A, Jääskeläinen J. Some basic principles in microneurosurgery of the brain. A review.
Surg Neurol
64:195-200, 2005
2. Niemelä M, Koivisto T, Kivipelto L, Ishii K, Rinne J, Ronkainen A, Kivisaari R, Shen H, Karatas A, Lehecka M, Frösen J, Piippo A, Jääskeläinen J, Hernesniemi J. Microsurgical clipping of cerebral aneurysms after the ISAT study.
Acta Neurochir
94 (Suppl): 3-6, 2005
3. Hernesniemi J, Dashti R, Lehecka M, Niemelä M, Rinne J, Lehto H, Ronkainen A, Koivisto T, Jääskeläinen J. Microneurosurgical management of anterior communicating artery aneurysms. Surg Neurol 70(1):8-28, 2008
Mika Niemelä
Juha Hernesniemi
Helsinki, Finland
Abstract
Purpose
To analyse the intraoperative complications of a single neurosurgeon, with emphasis on devastating intraoperative incidents, and how they possibly could have been avoided.
Methods
All the patients operated upon by the author between 1986 and 2002, i.e. 252 patients with 270 craniotomies for 294 aneurysms, were included. All intraoperative events that possibly could have influenced the clinical outcome were recorded prospectively.
Results
A total of 16 cases (6.3% of all the patients) with serious intraoperative incidents were identified. In 11 cases (3.6% of all aneurysms), an intraoperative rupture occurred that was judged to have had mild to severe consequences for the patient. In another four patients (1.6% of all patients), all with unruptured, large aneurysms (>15 mm) of the carotid or middle cerebral arteries, a major vessel occlusion occurred inadvertently. In one patient with a large, unruptured MCA aneurysm, a clip slipped after the closure of the wound, causing a fatal intracerebral haemorrhage. These events had a severe impact on the clinical outcome. In retrospect, most of these incidents could, and should have, been avoided.
Conclusions
It is recommended to start the training of new aneurysm surgeons on patients with small, supratentorial, unruptured aneurysms, followed by ruptured aneurysms in all other supratentorial locations than the anterior communicating artery (ACOM), which is the supratentorial location that should be the last step in the training of independent aneurysm surgeons.