01.12.2015 | Research article | Ausgabe 1/2015 Open Access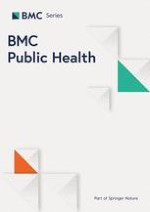 Lessons learned from the AFLY5 RCT process evaluation: implications for the design of physical activity and nutrition interventions in schools
Zeitschrift:
Autoren:

R. Jago, E. Rawlins, R. R. Kipping, S. Wells, C. Chittleborough, T. J. Peters, J. Mytton, D. A. Lawlor, R. Campbell
Wichtige Hinweise
Competing interests
RC is a Director of DECIPHer IMPACT a not-for-profit company owned by the Universities of Bristol and Cardiff which licences and supports the implementation of evidenced-based health promotion programmes.
Authors' contributions
RC, RJ, RK, CC and TJP are co-investigators of AFLY5, DAL is the principal investigator and all contributed to the design of the study and helped to gain funding. SW was the project manager and ER the qualitative researcher. ER, SW, RC and RJ designed the process evaluation. ER recruited participants, collected data and developed the coding frame with RJ and RC. Coding was performed by ER with RJ and RC contributing to the development of codes, coding and data interpretation. The first draft of the manuscript was produced by RJ and ER. All authors critically reviewed and edited the paper. All authors read and approved the final manuscript.
Abstract
Background
Systematic reviews have highlighted that school-based diet and physical activity (PA) interventions have had limited effects. This study used qualitative methods to examine how the effectiveness of future primary (elementary) school diet and PA interventions could be improved.
Methods
Data are from the Active For Life Year 5 (AFLY5) study, which was a cluster randomised trial conducted in 60 UK primary schools. Year 5 (8–9 years of age) pupils in the 30 intervention schools received a 12-month intervention. At the end of the intervention period, interviews were conducted with: 28 Year 5 teachers (including 8 teachers from control schools); 10 Headteachers (6 control); 31 parents (15 control). Focus groups were conducted with 70 year 5 pupils (34 control). Topics included how the AFLY5 intervention could have been improved and how school-based diet and PA interventions should optimally be delivered. All interviews and focus groups were transcribed and thematically analysed across participant groups.
Results
Analysis yielded four themes.
Child engagement: Data suggested that programme success is likely to be enhanced if children feel that they have a sense of autonomy over their own behaviour and if the activities are practical.
School: Finding a project champion within the school would enhance intervention effectiveness. Embedding diet and physical activity content across the curriculum and encouraging teachers to role model good diet and physical activity behaviours were seen as important.
Parents and community: Encouraging parents and community members into the school was deemed likely to enhance the connection between schools, families and communities, and "create a buzz" that was likely to enhance behaviour change.
Government/Policy: Data suggested that there was a need to adequately resource health promotion activity in schools and to increase the infrastructure to facilitate diet and physical activity knowledge and practice.
Discussion and Conclusions
Future primary school diet and PA programmes should find ways to increase child engagement in the programme content, identify programme champions, encourage teachers to work as role models, engage parents and embed diet and PA behaviour change across the curriculum. However, this will require adequate funding and cost-effectiveness will need to be established.
Trial registration