01.12.2017 | Research | Ausgabe 1/2017 Open Access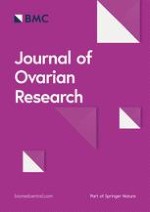 Let-7e sensitizes epithelial ovarian cancer to cisplatin through repressing DNA double strand break repair
Zeitschrift:
Autoren:

Man Xiao, Jing Cai, Liqiong Cai, Jinghui Jia, Lisha Xie, Ying Zhu, Bangxing Huang, Dongdong Jin, Zehua Wang
Wichtige Hinweise
Electronic supplementary material
The online version of this article (doi:
10.​1186/​s13048-017-0321-8
) contains supplementary material, which is available to authorized users.
Abstract
Background
Resistance to platinum-based chemotherapy remains a great challenge for ovarian cancer treatment. The human let-7 family contains 13 members located on nine different chromosomes, and most members have been implicated in the modulation of drug sensitivity in cancers. Our previous study showed that deregulation of let-7e in epithelial ovarian cancer (EOC) promoted the development of resistance to cisplatin. In the present study, we aimed to investigate the underlying mechanism and further evaluate the clinical value of let-7e in predicting chemo-response and prognosis in EOC.
Results
In situ hybridization assays revealed a significantly decreased expression of let-7e in chemo-resistant EOC tissues compared with chemo-sensitive cases. Transfection with let-7e agomir sensitized EOC cells to cisplatin, down-regulated BRCA1 and Rad51 expression, and repressed the repair of cisplatin-induced DNA double strand break, while let-7e inhibitor exerted the opposite effects. In human EOC tissues, BRCA1 and Rad51 levels were increased in the chemo-resistant group compared with the sensitive group and were negatively correlated with let-7e. Low let-7e and high Rad51 were significantly associated with poor progression-free survival and overall survival and multivariate regression analyses showed that let-7e was an independent predictor for overall survival and chemotherapy response in EOC. Receiver operating characteristic analysis indicated that let-7e level was highly predictive of resistance to platinum-taxane chemotherapy with an area under the curve of 0.826.
Conclusions
In EOC, low let-7e leads to activation of BRCA1 and Rad51 expression and subsequent enhancement of DSB repair, which in turn results in cisplatin-resistance. Let-7e is a potential predictor for survival and chemo-response in EOC and re-expression of let-7e might be an effective strategy for overcoming chemo-resistance.