01.12.2018 | Study protocol | Ausgabe 1/2018 Open Access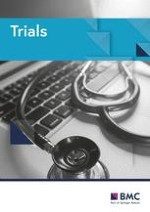 Leucine and ACE inhibitors as therapies for sarcopenia (LACE trial): study protocol for a randomised controlled trial
Zeitschrift:
Autoren:

Margaret M. Band, Deepa Sumukadas, Allan D. Struthers, Alison Avenell, Peter T. Donnan, Paul R. Kemp, Karen T. Smith, Cheryl L. Hume, Adrian Hapca, Miles D. Witham
Wichtige Hinweise
Electronic supplementary material
Abstract
Background
Sarcopenia (the age-related loss of muscle mass and function) is a major contributor to loss of mobility, falls, loss of independence, morbidity and mortality in older people. Although resistance training is effective in preventing and reversing sarcopenia, many older people are sedentary and either cannot or do not want to exercise. This trial examines the efficacy of supplementation with the amino acid leucine and/or angiotensin converting enzyme inhibition to potentially improve muscle mass and function in people with sarcopenia. Promising preliminary data exist from small studies for both interventions, but neither has yet been tested in adequately powered randomised trials in patients with sarcopenia.
Methods
Leucine and ACE inhibitors in sarcopenia (LACE) is a multicentre, masked, placebo-controlled, 2 × 2 factorial randomised trial evaluating the efficacy of leucine and perindopril (angiotensin converting enzyme inhibitor (ACEi)) in patients with sarcopenia. The trial will recruit 440 patients from primary and secondary care services across the UK. Male and female patients aged 70 years and over with sarcopenia as defined by the European Working Group on Sarcopenia (based on low total skeletal muscle mass on bioimpedance analysis and either low gait speed or low handgrip strength) will be eligible for participation. Participants will be excluded if they have a contraindication to, or are already taking, an ACEi, angiotensin receptor blocker or leucine. The primary clinical outcome for the trial is the between-group difference in the Short Physical Performance Battery score at all points between baseline and 12 months. Secondary outcomes include appendicular muscle mass measured using dual-energy X-ray absorptiometry, muscle strength, activities of daily living, quality of life, activity using pedometer step counts and falls. Participants, clinical teams, outcomes assessors and trial analysts are masked to treatment allocation. A panel of biomarkers including microRNAs, neurohormones, genetic polymorphisms and markers of inflammation relevant to muscle pathophysiology will be measured to explore predictors of response and further elucidate mechanisms underlying sarcopenia. Participants will receive a total of 12 months of either perindopril or placebo and either leucine or placebo.
Discussion
The results will provide the first robust test of the overall clinical and cost-effectiveness of these novel therapies for older patients with sarcopenia.