01.12.2019 | Primary research | Ausgabe 1/2019 Open Access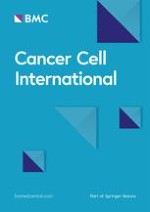 Leucine-rich repeat and sterile alpha motif containing 1 promotes the oncogenic growth of human hepatocellular carcinoma cells
Zeitschrift:
Autoren:

Lili Pian, Xiaofeng Huang, Min Zhao, Yaolin Zhang, Cheng Qin, Jiyan Zhang, Jun Zhang, Qingyang Wang
Wichtige Hinweise
Supplementary information
Publisher's Note
Springer Nature remains neutral with regard to jurisdictional claims in published maps and institutional affiliations.
Abstract
Background
Hepatocellular carcinoma (HCC), the most common primary cancer of the liver, is one of the most common malignancies and the leading cause of cancer-related death worldwide. Leucine-rich repeat and sterile alpha motif containing 1 (LRSAM1) is an E3 ubiquitin ligase involved in diverse cellular activities, including the regulation of cargo sorting, cell adhesion and antibacterial autophagy. The role of LRSAM1 in HCC remains unknown.
Methods
In this study, we reviewed the TCGA database and then performed gain-of-function and loss-of-function analyses of LRSAM1 in HCC cell lines.
Results
We found that the mRNA expression level of LRSAM1 was significantly increased in clinical HCC tissues in the TCGA database. Transient LRSAM1 knockdown in several human HCC cell lines led to reduced growth in conventional culture conditions. Stable LRSAM1 knockdown in HepG2 cells led to impaired anchorage-independent growth whereas its stable ectopic overexpression yielded the opposite effects. LRSAM1 overexpression in HepG2 cells enhanced in vivo tumorigenicity, whereas LRSAM1 knockdown in this cell line significantly impaired tumor growth.
Conclusions
Our data suggest that LRSAM1 promotes the oncogenic growth of human HCC cells, although the underlying mechanisms remain to be explored.