01.12.2017 | Case report | Ausgabe 1/2017 Open Access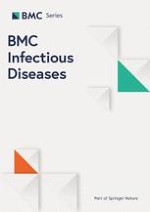 Leuconostoc mesenteroides

periprosthetic knee infection, an unusual fastidious Gram-positive bacteria: a case report
Zeitschrift:
Autoren:

Rafael Franco-Cendejas, Claudia A. Colín-Castro, Melissa Hernández-Durán, Luis E. López-Jácome, Silvestre Ortega-Peña, Guillermo Cerón-González, Samuel Vanegas-Rodríguez, Jaime A. Mondragón-Eguiluz, Eduardo Acosta-Rodríguez
Abstract
Background
Periprosthetic joint infections are mainly caused by Gram-positive cocci.
Leuconostoc mesenteroides
is a rare microorganism mainly causing bloodstream infections. At times, it might be confused with another type of cocci and give rise to misdiagnosed infections. Molecular diagnosis and biofilm production comprise important techniques to guide antibiotic treatment.
Case presentation
A 68-year-old Hispanic female with a previous history of bilateral knee arthroplasty presented with acute right-knee inflammation and gait impairment. Blood tests showed inflammatory response and knee x-ray revealed no prosthesis loosening. Irrigation and debridement was performed. Gram-positive cocci were obtained from cultures, and then biochemical and molecular identification revealed
L. mesenteroides
. Susceptibility and biofilm production were performed. The patient was treated with IntraVenous (IV) Ceftriaxone for ten days and was then switched to Amoxicillin-Clavulanate for 3 months with clinical and laboratory success.
Conclusions
Microbiology diagnosis of fastidious microorganisms is mandatory to treat periprosthetic joint infections adequately.
L. mesenteroides
may infect non-immunocompromised persons; however, treatment guidelines are lacking.