01.12.2019 | Research | Ausgabe 1/2019 Open Access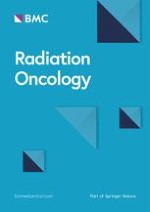 Leukotoxicity after moderately Hypofractionated radiotherapy versus conventionally fractionated dose escalated radiotherapy for localized prostate Cancer: a secondary analysis from a randomized study
Zeitschrift:
Autoren:

Giuseppe Sanguineti, Diana Giannarelli, Maria Grazia Petrongari, Stefano Arcangeli, Angelo Sangiovanni, Biancamaria Saracino, Alessia Farneti, Adriana Faiella, Mario Conte, Giorgio Arcangeli
Wichtige Hinweise
Electronic supplementary material
Abbreviations
3D-CRT
Three-dimensional conformal RT
CF
Conventionally fractionated RT
HYPO
Moderately hypofractionated RT
VMAT
Volumetric modulated arc therapy
Background
The present study aims at clarifying the impact of HYPO compared to conventionally fractionated (CF) RT on WBC counts during treatment throughout a secondary analysis of a phase III study.
Methods and materials
Patients and treatments
All patients treated within a randomized, single-Institution trial were analyzed. The details of the trial have been previously published [
18
]. Briefly, patients with intermediate to high risk localized prostate cancer were treated with 9-month total androgen blockade (bicalutamide, 50 mg, daily and a luteinizing hormone-releasing hormone analog depot, monthly). At the 67th day from the first bicalutamide intake, patients started definitive radiotherapy, either 80 Gy in 40 fractions over 8 weeks, conventional fractionation (CF) arm, or 62 Gy in 20 fractions over 5 weeks, hypofractionated (HYPO) arm. Patients in the CF arm were treated five times per week while those in the HYPO arm, four times per week. In both arms, RT targeted the prostate and the whole seminal vesicles. A three-dimensional conformal radiotherapy (3D-CRT) technique with 6 coplanar 15 MV photon fields was used. No attempt was done to cover pelvic lymph nodes.
Statistics
The protocol mandated weekly hematologic cell counts during treatment and here we focus on WBC counts only. Results of blood tests were usually transcribed in the RT chart. Therefore, data were obtained through chart review from the date of diagnosis up to the end of radiotherapy. Unfortunately, leukocyte differential counts were not systematically recorded.
Based on the date of blood sampling and each individual RT schedule, a number of fractions was associated to each WBC count. Then, the cumulative (nominal) radiation dose was obtained by multiplying the dose per fraction (either 2 Gy or 3.1 Gy as appropriate) by the number of fractions delivered. WBC counts were binned based on the cumulative total dose delivered up to the day of blood sampling, with baseline observations assigned a dose value of zero.
For statistical analysis, cell counts were treated as absolute ones. In case of multiple individual measurements within a given dose range, or when measurements from various time points were pooled, the average value was considered. In case of missing data, no attempt was done to interpolate between the available values. Therefore, missing data points were excluded.
Distributions of samples between groups were assessed with Pearson's chi-square; means were compared with Student's t test. A General Linear Model based on mixed design Analysis Of Variance (ANOVA) was used to test variation of WBC counts at increasing cumulative doses and between the two treatment arms. This model tests three hypotheses: 1. The one that no difference exists in mean WBC counts and dose ('within effect'); 2. The one that no difference exists between the two groups ('between effects'); 3. The one that possible differences according to dose are constant between the two groups ('interaction effect'). Since in the GLM model patients with missing values are excluded, in order to minimize incomplete data loss, we preliminarily identified the cumulative dose intervals in which the majority patients had all data points. Moreover, since pre-treatment WBC counts were available only for a minority of patients, baseline data were not included in the GLM analysis. Statistical significance was claimed for
p
values less than 0.05.
Results
Patients and observations
As previously reported [
18
], 168 patients (85 and 83 in the CF and HYPO arms, respectively) were accrued from January 2003 to December 2007. Selected patient, tumor and treatment characteristics have been reported in details elsewhere [
18
]. All patients received the assigned prescribed nominal dose over an average (SD) time of 59.8 (5.7) and 33 (4.4) days in the CF and HYPO arms, respectively (
p
 < 0.001).
WBC counts collected during treatment up to the nominal total dose of 62 Gy (
N
 = 705) were divided into in 3 or 4 groups according to tertiles or quartiles of the delivered nominal total dose, respectively. We identified 140 patients (83.3%) and 109 patients (64.9%) with observations for all the 3 or 4 intervals, respectively. Given the large number of patients with missing data in the 4-tier approach, we decided to further analyze data based on the former sub-classification only. Of note, the median dose of intervals 1–3 was spaced by a very similar nominal dose, ≈18 Gy.
Table
1
and Fig.
1
summarize observations for the 140 selected patients. Seventy-seven patients (55%) had baseline observations, with a non-dissimilar distribution between arms (
p
 = 0.508). As expected, based on the larger number of fractions needed to reach a given dose for patients treated with conventional fractionation over hypofractionated RT, patients in the CF arm had a statistically higher number of observations within all treatment intervals, though the number of analyzed patients by arm is very close (
N
 = 71 and 69 in the CF and HYPO arms, respectively) (Table
1
).
Table 1
Number of patients and observations by interval/dose level. All selected patients (
N
 = 140) have at least one observation during each interval from 1 to 3. The grey area corresponds to the General Linear Model (GLM) area of Fig.
2
×
WBC counts
As shown in Table
2
, baseline WBC counts/mm
3
averaged out at ≈7000. The largest drop in WBC counts was observed from baseline to the first dose interval (≈800 counts/mm
3
, − 11.1%,
p
 < 0.001). The magnitude of the difference in average WBC counts from the 1st to the 2nd and from the 2nd to the 3rd interval was progressively smaller and lost statistical significance: − 6.3%,
p
 = 0.018 and − 1.3%,
p
 = 0.619, for the former and the latter time periods, respectively.
Table 2
Mean (SD) White Blood Cell counts by interval/dose level. The grey area corresponds to the General Linear Model (GLM) area of Fig.
2
WBC counts by arms – GLM model
Average absolute WBC counts per patient at selected time points are summarized in Table
2
and illustrated in Fig.
2
. Baseline mean counts were not statistically different before treatment (
p
 = 0.821), but diverged progressively reaching statistically significant
p
values at an average median delivered dose of 34.1 Gy (Table
2
).
×
The GLM (mixed design ANOVA model) analysis was restricted to intervals 1–3, where all the selected patients had at least one observation for each dose level (Fig.
2
, grey area). Since sphericity assumption was not met (Mauchly test,
p
 = 0.001), the corrected test of Greenhouse-Geisser was considered. The model shows a main effect of dose on counts at different intervals (Greenhouse-Geisser test,
p
 < 0.0001), reflected by a progressive decrease of average counts at increasing doses (Table
2
). However, the impact of dose on WBC counts is different between arms (Greenhouse-Geisser test,
p
 = 0.04), with less effect in the HYPO arm over the CF one. Also interaction between WBC counts and treatment arm resulted to be significant (
p
 = 0.04) confirming the different behavior of WBC counts in each fractionation schedule.
Next we further analyzed the effect of dose on each separate arm. In the CF arm (Table
2
and Fig.
2
), post-hoc analysis showed a highly significant reduction in average counts between interval 1 and both intervals 2 and 3 (both
p
 < 0.0001 after Bonferroni correction). Moreover, there was a borderline difference in mean counts between intervals 2 and 3 after Bonferroni correction (
p
 = 0.058). In the HYPO arm, we also observed a main effect of dose on counts (
p
 = 0.020), though the only statistically different interval time was the one between 1 and 2 (
p
 = 0.009 after Bonferroni correction).
Discussion
Conclusion
The present data show that moderate hypofractionation for localized prostate cancer is associated with less WBC count depression during treatment than conventional fractionation. Along with the reduction in the number of treatment sessions, these findings add to the attractiveness of HYPO and enhance its favorable cost-effectiveness profile, especially in light of the increasing number of elderly patients in need of care.
Acknowledgements
Not applicable
Availability of data and materials
Please contact author for data requests.
Ethics approval and consent to participate
The protocol was reviewed and approved by the Ethical Committee with respect to scientific content and compliance with applicable research and human subjects regulations. A full copy of the original protocol has been provided in Additional file
1
.
Consent for publication
Consent to publish individual data was obtained from all participants.
Competing interests
The authors declare that they have no competing interests.
Publisher's Note
Springer Nature remains neutral with regard to jurisdictional claims in published maps and institutional affiliations.
Open Access
This article is distributed under the terms of the Creative Commons Attribution 4.0 International License (
http://​creativecommons.​org/​licenses/​by/​4.​0/​
), which permits unrestricted use, distribution, and reproduction in any medium, provided you give appropriate credit to the original author(s) and the source, provide a link to the Creative Commons license, and indicate if changes were made. The Creative Commons Public Domain Dedication waiver (
http://​creativecommons.​org/​publicdomain/​zero/​1.​0/​
) applies to the data made available in this article, unless otherwise stated.