01.01.2010 | Original Article | Ausgabe 1/2010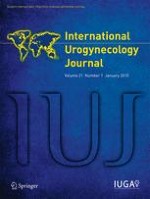 Levator ani defect status and lower urinary tract symptoms in women with pelvic organ prolapse
Zeitschrift:
Autoren:

Daniel M. Morgan, Pamela Cardoza, Kenneth Guire, Dee E. Fenner, John O. L. DeLancey
Abstract
Introduction and hypothesis
Among women with pelvic organ prolapse, compare rates of lower urinary tract symptoms by levator ani defect (LAD) status.
Methods
Urinary incontinence and obstructive voiding are analyzed among 151 women with prolapse whose LAD status was determined with magnetic resonance imaging.
Results
Women with major LAD are less likely to experience stress incontinence when "coughing, laughing, or sneezing" (odds ratio (OR) 0.27) and when "twisting, reaching, lifting, or bending over" (OR 0.26) than women with normal muscles. They are less likely to have obstructive symptoms characterized by assuming an "unusual toileting position" or "changing positions…to start or complete urination" (OR 0.27). Women with minor LAD are more likely to experience stress incontinence with exercise (OR 3.1) and urge incontinence (OR 4.0) than those with normal muscles.
Conclusions
Lower urinary tract symptoms are less common among women with prolapse and major levator ani defects and more common among those with minor defects.