04.05.2018 | Cardiac | Ausgabe 11/2018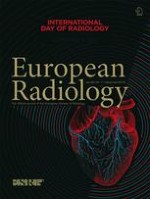 LGE-CMR-derived texture features reflect poor prognosis in hypertrophic cardiomyopathy patients with systolic dysfunction: preliminary results
Zeitschrift:
Autoren:

Sainan Cheng, Mengjie Fang, Chen Cui, Xiuyu Chen, Gang Yin, Sanjay K. Prasad, Di Dong, Jie Tian, Shihua Zhao
Wichtige Hinweise
Electronic supplementary material
Sainan Cheng and Mengjie Fang contributed equally to this work. Di Dong and Shihua Zhao contributed equally as the corresponding authors.
Abstract
Objectives
To evaluate the prognostic value of texture features based on late gadolinium enhancement cardiac magnetic resonance (LGE-CMR) images in hypertrophic cardiomyopathy (HCM) patients with systolic dysfunction.
Methods
67 HCM patients with systolic dysfunction (41 male and 26 female, mean age ± standard deviation, 46.20 years ± 13.38) were enrolled. All patients underwent 1.5 T CMR cine and LGE imaging. Texture features were extracted from LGE images. Cox proportional hazard analysis and Kaplan-Meier analysis were used to determine the association of texture features and traditional parameters with event free survival.
Results
Family history (hazard ratio [HR]=2.558, 95 % confidence interval [CI]=1.060–6.180), NYHA III-IV (HR=5.627, CI=1.652–19.173), left ventricular ejection fraction (HR=0.945, CI=0.902–0.991), left ventricular end-diastolic volume index (HR=1.006, CI=1.000–1.012), LGE extent (HR=1.911, CI=1.348–2.709) and three texture parameters [X0_H_skewness (HR=0.783, CI=0.691–0.889), X0_GLCM_cluster_tendency (HR=0.735, CI=0.616–0.877) and X0_GLRLM_energy (HR=1.344, CI=1.173–1.540)] were significantly associated with event free survival in univariate analysis (
p
<0.05). The HR of LGE extent (HR=1.548 [CI=1.046–2.293], 1.650 [CI=1.122–2.428] and 1.586 [CI=1.044–2.409] per 10 % increase,
p
<0.05) remained significant when adjusted by one of the three texture features.
Conclusion
Increased LGE heterogeneity (higher X0_GLRLM_energy, lower X0_H_skewness and lower X0_GLCM_cluster_tendency) was associated with adverse events in HCM patients with systolic dysfunction.
Key Points
• Textural analysis from CMR can be applied in HCM.
• Texture features derived from LGE images can capture fibrosis heterogeneity.
• CMR texture analysis provides prognostic information in HCM patients.