22.01.2019 | Original Paper | Ausgabe 4/2019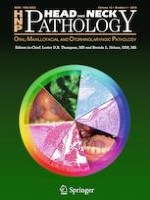 Lichenoid Characteristics in Premalignant Verrucous Lesions and Verrucous Carcinoma of the Oral Cavity
Zeitschrift:
Autoren:

L. A. Davidova, S. G. Fitzpatrick, I. Bhattacharyya, D. M. Cohen, M. N. Islam
Wichtige Hinweise
Publisher's Note
Springer Nature remains neutral with regard to jurisdictional claims in published maps and institutional affiliations.
Abstract
Verrucous hyperkeratosis (VH), verrucous carcinoma (VC) and the relentless, truly pre-malignant variant proliferative verrucous leukoplakia often exhibit lichenoid histologic features that may create a diagnostic dilemma for pathologists. This study aims to evaluate and categorize the frequency and the histopathologic patterns of lichenoid features seen in these lesions. Following IRB approval, cases of VH and VC from 1994 to 2014 were retrieved from the archives of UF Oral Pathology Biopsy Service. A panel of 4 board-certified oral and maxillofacial pathologists reviewed and scored the presence or absence of 5 lichenoid features: band-like infiltrate (BLI), saw tooth rete ridges (STRR), interface stomatitis (IS), civatte bodies (CB), and basement membrane degeneration (BMD). Cases not fulfilling the stringent selection criteria were excluded. A total of 70 cases of VH and 56 cases of VC were included. Approximately 25% of both VH and VC cases exhibited 3 or more lichenoid features. By Chi square testing, BLI (
p
 = 0.000), IS (
p
 = 0.005), and CB (
p
 = 0.026) were significantly more common in VC than VH. Gingival lesions had significantly less frequent BLI (
p
 = 0.004) and IS (
p
 = 0.024) versus other sites. However, STRR was significantly more common in VH than VC (
p
 = 0.000) in the gingiva. (
p
 = 0.002). Statistical analysis revealed that the only significant valid association was the increased presence of band-like infiltrate in VC over VH (
p
 = 0.001). Lichenoid features are common in both VH and VC and may represent a nonspecific inflammatory response to the dysplasia or malignancy rather than concomitant lichenoid disease. This could lead to significant under diagnoses of these premalignant or potentially malignant lesions by pathologists.