01.05.2004 | Original Article | Ausgabe 2/2004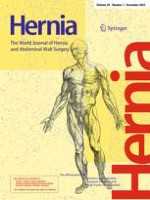 Lichtenstein vs anterior preperitoneal prosthetic mesh placement in open inguinal hernia repair: A prospective, randomized trial
Zeitschrift:
Autoren:

R. L. Muldoon, K. Marchant, D. D. Johnson, G. G. Yoder, R. C. Read, M. Hauer-Jensen
Abstract
Male veterans with unilateral primary inguinal hernia, classified intraoperatively as Gilbert Type III or IV, were randomized to subaponeurotic (Lichtenstein,
n
=126) or preperitoneal (Read-Rives,
n
=121) repair under general or spinal anesthesia. The two groups of patients were comparable in age, body weight index, comorbidities, and size and type of hernia. Of the 247 patients enrolled, 224 were followed for at least 2 years (median 82 months, range 24–110 months), 16 were lost to follow-up, and seven died from causes unrelated to the surgery. The average operative time of the Read-Rives repair was 9 min longer than that of the Lichtenstein repair. There were no wound infections, and the frequencies of other short- and long-term complications were low and similar in the two groups. Six patients developed hernia recurrence, five in the Lichtenstein group (4.3%), and one in the Read-Rives group (<1%), (
P
=0.21). Both anterior repairs are associated with low postoperative morbidity and recurrence rates. The Lichtenstein repair is technically easier and less time consuming. There is no statistically significant difference in the recurrence rate between the two repairs.