01.12.2017 | Review | Ausgabe 1/2017 Open Access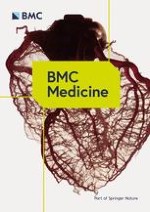 Lifestyle precision medicine: the next generation in type 2 diabetes prevention?
Zeitschrift:
Autoren:

Pascal M. Mutie, Giuseppe N. Giordano, Paul W. Franks
Wichtige Hinweise
Electronic supplementary material
The online version of this article (doi:
10.​1186/​s12916-017-0938-x
) contains supplementary material, which is available to authorized users.
Background
Herein, we review the concept of lifestyle precision medicine in T2D. Specifically, we summarize the published evidence on lifestyle risk factors and preventive interventions in T2D, briefly discussing the limitations of existing approaches focusing on lifestyle interventions for T2D prevention, and explore how harnessing biomarker technologies might help optimize these strategies. Furthermore, we describe evidence of differential response to lifestyle interventions based on unique genetic traits, as well as functional evidence of the biomolecular basis of these responses. Finally, we describe current omics technologies that can be applied to identify and stratify populations based on an individual's unique genotype.
Methods
Literature search strategy
We reviewed the literature for evidence of modifiable lifestyle exposures that either raise or lower the risk of T2D. A detailed overview of each of the papers reviewed is given in Additional file
1
: Table S1. The findings are summarized later in this review.
We searched the PubMed online database for papers using the search terms "(Cohort Studies[MeSH] OR Nested case cohort study[MeSH] OR Randomized Control Trial[MeSH]) AND (Lifestyle[MeSH] OR Environmental Exposures[MeSH]) AND (Blood glucose [MeSH] OR HbA1c [MeSH] OR Impaired fasting glucose OR Impaired glucose tolerance OR Dysglycemia OR Type 2 diabetes[MeSH] OR Glucose Intolerance[MeSH]) NOT review". The search was restricted to human studies only and age 45 years and above without restriction on the year of publication.
The search retrieved information for 676 papers. After title scanning, 197 articles were selected as potentially relevant and their abstracts were reviewed, with 65 of these papers being relevant for full review. Additionally, further papers were identified through ancestral searches of bibliographies; therefore, a total of 75 papers [
6
,
12
–
85
] were used to compile the evidence summary reported below.
Review
Published evidence of lifestyle in T2D risk and prevention
RCTs are often considered the gold-standard in the hierarchy of causal evidence, as double-blind, placebo controlled trials are generally robust to confounding and reverse causality. However, in lifestyle intervention trials, masking treatment allocation from the participant and investigators is extremely challenging, which may result in compensatory behaviors that introduce bias and confounding – a rarely discussed caveat that affects the validity of data from lifestyle RCTs. Nevertheless, abundant epidemiological studies and clinical trials have implicated multiple lifestyle factors in the development of T2D.
Types of biomarkers
Conclusions
Precision medicine research generally seeks to (1) elucidate the biology for the development of therapeutic targets or (2) identify biomarkers that can be used to inform health decisions and/or design new therapeutic strategies. In the latter, there are multiple contexts of use where biomarkers might play a key role in optimizing the design, timing, or delivery of lifestyle interventions (see [
100
]).
Determining whether discoveries in lifestyle precision medicine are likely to be of eventual clinical value first requires that the translational avenue be identified. In the development of anti-diabetic drugs, genetics has proven extremely valuable for the discovery of novel targets, reducing costs and improving drug development pipelines [
139
]. There are excellent examples where genetic screening is routinely undertaken for rare genetic disorders, such as phenylketonuria, where mutation carriers are prescribed special diets, or where genetics can provide insight into allergies or intolerances to specific foods or nutrients [
140
]. However, in T2D, genetics or other omic biomarkers are yet to meaningfully impact the optimization of lifestyle therapies, although two recent studies that used machine learning algorithms to interrogate complex data structures to predict individual response to foods [
138
,
141
] highlight the possibilities ahead. There are numerous promising biomarkers that might eventually prove useful in this regard, as discussed above, but this requires the careful qualification of the biomarker in its proposed context of use.
For example, to predict the rate of T2D diagnosis, a biomarker's predictive accuracy will need to be assessed, i.e., it should improve the accuracy of current prediction algorithms or enhance the reclassification of incident disease prediction. If the biomarker is to predict treatment response or side-effects, the assessment should be made in the context of an appropriately designed intervention study. The cost-effectiveness of lifestyle precision medicine strategies will also need to be demonstrated, as will the safety and scalability of such approaches. To date, no comprehensive attempts to do so in relation to biomarkers, lifestyle, and T2D have been described.
Curbing the global diabetes epidemic requires innovative approaches for its prevention. With the rapid development of biomarker technologies to characterize the etiology and pathogenesis of diabetes at scale, there are many ways in which lifestyle interventions could be optimized to help prevent T2D. However, major barriers to this vision include the assimilation and analysis of relevant, multi-omic biomarker data in specially designed lifestyle intervention trials. The analytical aspects alone are enormously challenging, as human biology is both complex and dynamic, but solutions are emerging [
142
]. The design and conduct of lifestyle trials for precision medicine also require innovative approaches to overcome the sources of bias and confounding that are difficult to circumvent when interventions cannot be masked. Nevertheless, recent advances in wearable technologies may help address these longstanding problems.
Acknowledgements
Not applicable.
Funding
The authors acknowledge funding for their research related to this paper from the Swedish Heart-Lung Foundation, the Novo Nordisk Foundation, the Swedish Research Council, the European Research Council (CoG-2015_681742_NASCENT) and the Innovative Medicines Initiative (DIRECT: grant agreement #115317; RHAPSODY: grant agreement #115881).
Availability of data and materials
Not applicable.
Authors' information
GG is a dental surgeon and public health epidemiologist, currently employed as a researcher at Lund University Diabetes Centre. PM is a medical doctor and public health epidemiologist currently working as a doctoral student at Lund University Diabetes Centre. PF is a professor in genetic epidemiology and deputy-director of Lund University Diabetes Centre. His research has focused on the interplay of genetic and lifestyle factors in the development of obesity, type 2 diabetes, and cardiovascular disease.
Ethics approval and consent to participate
Not applicable.
Consent for publication
Not applicable.
Competing interests
The authors declare that they have no competing interests.
Open Access
This article is distributed under the terms of the Creative Commons Attribution 4.0 International License (
http://​creativecommons.​org/​licenses/​by/​4.​0/​
), which permits unrestricted use, distribution, and reproduction in any medium, provided you give appropriate credit to the original author(s) and the source, provide a link to the Creative Commons license, and indicate if changes were made. The Creative Commons Public Domain Dedication waiver (
http://​creativecommons.​org/​publicdomain/​zero/​1.​0/​
) applies to the data made available in this article, unless otherwise stated.