03.01.2019 | Original Article | Ausgabe 3/2019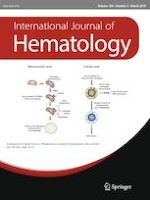 Limited efficacy of high-dose methotrexate in patients with neurolymphomatosis
Zeitschrift:
Autoren:

Hiroki Kobayashi, Yoshiaki Abe, Daisuke Miura, Kentaro Narita, Akihiro Kitadate, Masami Takeuchi, Kosei Matsue
Wichtige Hinweise
Publisher's Note
Springer Nature remains neutral with regard to jurisdictional claims in published maps and institutional affiliations.
Abstract
Neurolymphomatosis (NL) is a rare manifestation of non-Hodgkin lymphoma, in which malignant cells infiltrate the peripheral nerves. Most patients are treated with high-dose methotrexate (HD-MTX)-based systemic chemotherapy regimens similar to patients with central nervous system lymphoma. However, because NL is rare, the efficacy of HD-MTX is largely unknown. We reviewed medical records of patients diagnosed with NL over the past 10 years and identified 18 patients. The underlying hematological malignancy was diffuse large B-cell lymphoma (DLBCL) in 10 patients (55.6%), intravascular large B-cell lymphoma in six (33.3%), and other types in two patients. Ten patients were treated with HD-MTX-based systemic chemotherapy; the response rates with and without HD-MTX-based chemotherapy were 100% (
n
 = 10) and 85.7% (
n
 = 6), respectively (
P
 = 0.41). The median progression-free and overall survival rates of patients with versus without HD-MTX treatment were 6.4 vs. 8.5 months (
P
 = 0.97) and 13.5 vs. 8.5 months (
P
 = 0.63), respectively. Despite the initial favorable responses, rapid disease recurrence was observed in most patients administered HD-MTX-based chemotherapy. Our observations suggest that HD-MTX-based chemotherapy may have insufficient efficacy against NL, and that other therapeutic approaches are required to improve the outcomes of patients with this rare disease.