08.09.2016 | Original Article | Ausgabe 11/2016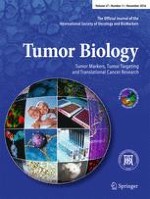 LINC00312 inhibits the migration and invasion of bladder cancer cells by targeting miR-197-3p
Zeitschrift:
Autoren:

Yun-Yan Wang, Zi-Yu Wu, Gong-Cheng Wang, Kun Liu, Xiao-Bing Niu, Shuo Gu, Jun-Song Meng
Wichtige Hinweise
Yun-Yan Wang, Zi-Yu Wu, and Gong-Cheng Wang are regarded as co-first authors.
Abstract
To investigate the influence of the long non-coding RNA LINC00312 on bladder cancer (BC) cell invasion and metastasis by targeting miR-197-3p. BC and corresponding adjacent tissues were collected. LINC00312 and miR-197-3p were measured, and their correlation was detected through quantitative real-time PCR (qRT-PCR). BC cell line T24 was transfected and grouped (five groups) according to different transfection conditions. A scratch test was applied to analyze cell migration, and a Transwell assay was used to test cell invasion ability. Western blotting was to measure matrix metalloproteinase (MMP)-2, MMP-9, and the tissue inhibitor of metalloproteinase 2 (TIMP2) protein levels. qRT-PCR indicated that LINC00312 expression was lower but miR-197-3p expression was higher in BC tissues compared with adjacent tissues; LINC00312 was negatively correlated with miR-197-3p. The migration test revealed that the downregulation of miR-197-3p and overexpression of LINC00312 inhibited cell migration and invasion abilities, while the overexpression of miR-197-3p and the upregulation of LINC00312 promoted cell migration and invasion. BC cells with downregulated miR-197-3p or upregulated LINC00312 had low MMP-2 and MMP-9 levels but high TIMP2. LINC00312 inhibited BC cell invasion and metastasis through mediating miR-197-3p.