01.12.2017 | Original investigation | Ausgabe 1/2017 Open Access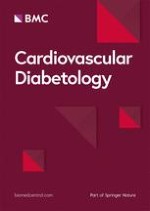 Lipoprotein(a) and incident type-2 diabetes: results from the prospective Bruneck study and a meta-analysis of published literature
Zeitschrift:
Autoren:

Ellie Paige, Katya L. Masconi, Sotirios Tsimikas, Florian Kronenberg, Peter Santer, Siegfried Weger, Johann Willeit, Stefan Kiechl, Peter Willeit
Wichtige Hinweise
Electronic supplementary material
The online version of this article (doi:
10.​1186/​s12933-017-0520-z
) contains supplementary material, which is available to authorized users.
Ellie Paige and Katya L. Masconi contributed equally to this work
Abstract
Aims
We aimed to (1) assess the association between lipoprotein(a) [Lp(a)] concentration and incident type-2 diabetes in the Bruneck study, a prospective population-based study, and (2) combine findings with evidence from published studies in a literature-based meta-analysis.
Methods
We used Cox proportional hazards models to calculate hazard ratios (HR) for incident type-2 diabetes over 20 years of follow-up in 815 participants of the Bruneck study according to their long-term average Lp(a) concentration. For the meta-analysis, we searched Medline, Embase and Web of Science for relevant prospective cohort studies published up to October 2016.
Results
In the Bruneck study, there was a 12% higher risk of type-2 diabetes for a one standard deviation lower concentration of log Lp(a) (HR = 1.12 [95% CI 0.95–1.32]; P = 0.171), after adjustment for age, sex, alcohol consumption, body mass index, smoking status, socioeconomic status, physical activity, systolic blood pressure, HDL cholesterol, log high-sensitivity C-reactive protein and waist–hip ratio. In a meta-analysis involving four prospective cohorts with a total of 74,575 participants and 4514 incident events, the risk of type-2 diabetes was higher in the lowest two quintiles of Lp(a) concentrations (weighted mean Lp(a) = 3.3 and 7.0 mg/dL, respectively) compared to the highest quintile (62.9 mg/dL), with the highest risk of type-2 diabetes seen in quintile 1 (HR = 1.28 [1.14–1.43]; P < 0.001).
Conclusions
The current available evidence from prospective studies suggests that there is an inverse association between Lp(a) concentration and risk of type-2 diabetes, with a higher risk of type-2 diabetes at low Lp(a) concentrations (approximately <7 mg/dL).