01.03.2013 | Short Communication | Ausgabe 1/2013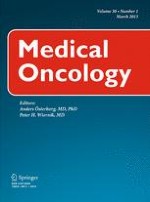 Liposomal amphotericin B and surgery as successful therapy for pulmonary
Lichtheimia corymbifera

zygomycosis in a pediatric patient with acute promyelocytic leukemia on antifungal prophylaxis with posaconazole
Zeitschrift:
Autoren:

Grazina Kleinotiene, Gintas Posiunas, Juozas Raistenskis, Edvardas Zurauskas, Sigita Stankeviciene, Valentina Daugelaviciene, Maciej Machaczka
Abstract
Pulmonary zygomycosis, also referred to as mucormycosis, is a fungal infection of lungs caused by fungi of the order Mucorales in the class of Zygomycetes. It is usually associated with high morbidity and mortality. Here, we report the case of a 14-year-old girl with pediatric acute promyelocytic leukemia (APL) on antifungal prophylaxis with posaconazole, who developed pulmonary
Lichtheimia corymbifera
(formerly
Absidia corymbifera
) zygomycosis. She was successfully treated by means of liposomal amphotericin B (L-AmB) and surgery. To our knowledge, this is the first published report on pediatric APL and pulmonary zygomycosis in the English language literature. At present, the patient is in complete remission of her APL and without any signs of recurrence of zygomycosis. This report suggests that efficient diagnostics, increased physician awareness, and reliance on adjunctive surgical therapy can result in a favorable outcome of pulmonary zygomycosis in immunocompromised children with hematological malignancies.