18.12.2019 | Original Article | Ausgabe 2/2020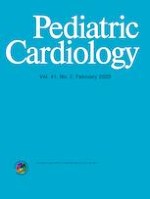 Liver Strain Using Feature Tracking of Cine Cardiac Magnetic Resonance Imaging: Assessment of Liver Dysfunction in Patients with Fontan Circulation and Tetralogy of Fallot
Zeitschrift:
Autoren:

Ryoko Ohashi, Michinobu Nagao, Umiko Ishizaki, Yumi Shiina, Kei Inai, Shuji Sakai
Wichtige Hinweise
Electronic supplementary material
Publisher's Note
Springer Nature remains neutral with regard to jurisdictional claims in published maps and institutional affiliations.
Abstract
We propose a novel method to quantify pulsatile liver deformation using the feature tracking method of cardiac cine magnetic resonance imaging (MRI) and investigate its association with liver dysfunction in long-term postoperative patients after Fontan and intracardiac repair for the tetralogy of Fallot (TOF). Standard cine MRI which was previously performed for cardiac evaluation of 85 patients who underwent Fontan operation (mean age, 22.9 years), 43 patients with TOF (mean age, 34.6 years), and 32 healthy controls (mean age, 42.3 years) were retrospectively analyzed. Pulsatile liver deformation in the craniocaudal direction was calculated using the feature tracking method of cardiac cine imaging derived from cine-balanced turbo field-echo sequences performed on a 1.5 Tesla MR scanner, and was defined as liver strain. The liver strain was compared across the three patient groups using one-way analysis of variance. Liver dysfunction by a liver strain were compared using the Mann–Whitney U test. Liver strain for patients who underwent Fontan operation and TOF patients was significantly lower than controls (Fontan, 13.3 ± 6.5%; TOF, 15.0 ± 11.2%; controls, 23.1 ± 10.2%,
p
 < 0.0001). In Fontan and TOF patients, MELD score was significantly greater for patients with a liver strain < 15% than those with values > 15% (5.9 ± 5.8 vs. 2.9 ± 2.9,
p
 < 0.001). Lower liver strain values were found in adolescent and adult patients after Fontan operation and TOF, and correlates with the severity of liver injury, expressed as MELD score. Our method can evaluate hepatic function in adult congenital heart disease, together with the assessment of cardiac function.