01.12.2018 | Research | Ausgabe 1/2018 Open Access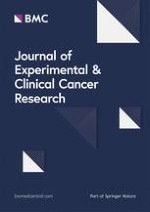 LncMAPK6 drives MAPK6 expression and liver TIC self-renewal
Zeitschrift:
Autoren:

Guanqun Huang, Hui Jiang, Yueming He, Ye Lin, Wuzheng Xia, Yuanwei Luo, Min Liang, Boyun Shi, Xinke Zhou, Zhixiang Jian
Abstract
Background
Liver tumor initiating cells (TICs) have self-renewal and differentiate capacities, and largely contribute to tumor initiation, metastasis and drug resistance. MAPK signaling is a critical pathway in many biological processes, while its role in liver TICs hasn't been explored.
Methods
Online-available dataset was used for unbiased screening. Liver TICs were examined CD133 FACS or oncosphere formation. TIC self-renewal was detected by oncosphere formation and tumor initiation assay. LncRNA function was detected by loss of function or gain of function assays. The molecular mechanism of lncRNA was explored by RNA pulldown, RNA immunoprecipitation, ChIP, western blot and double FISH.
Results
Here, we examined the expression profiles of MAPK components (MAPKs, MAP2Ks, MAP3Ks, MAP4Ks), and found MAPK6 is most highly expressed in liver cancer samples. Moreover, a divergent lncRNA (long noncoding RNA) of MAPK6, termed lncMAPK6 here, is also overexpressed along with liver tumorigenesis. LncMAPK6 promotes liver tumor propagation and TIC self-renewal through MAPK6. LncMAPK6 interacts with and recruits RNA polymerase II to
MAPK6
promoter, and finally activates the transcription of MAPK6. Through MAPK6 transcriptional regulation, lncMAPK6 drives MARK signaling activation.
LncMAPK6
-MAPK6 pathway can be used for liver TIC targeting. Altogether, lncMAPK6 promotes MARK signaling and the self-renewal of liver TICs through MAPK6 expression.
Conclusion
MAPK6 was the most highly expressed MAPK component in liver cancer and liver TICs and lncMAPK6 participated in the transcriptional regulation of MAPK6in cis. This work revealed the importance role of MAPK signaling in liver TIC self-renewal and added a new layer for liver TIC and MAPK6 expression regulation.