29.10.2018 | Übersicht | Ausgabe 7/2018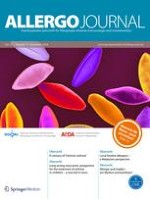 Local bivalve allergens — a Malaysian perspective
Zeitschrift:
Autoren:

Zailatul Hani Mohamad Yadzir, Misnan Rosmilah, Faizal Bakhtiar, Syakirah Samsudin, Noormalin Abdullah
Wichtige Hinweise
Acknowledgements
The authors thank the Director General of Health Malaysia for permission to publish this paper.
Author's contributions
Z. H. M. Yadzir: interpretation of results and analysis, writing the paper. R. Misnan, F. Bakhtiar, S. Samsudin, N. Abdullah: interpretation of results and analysis, critical revision of the paper.
Conflict of interest
Z.H.M. Yadzir, R. Misnan, F. Bakhtiar, S. Samsudin and N. Abdullah declare that they have no competing interests.
Cite this as
Yadzir ZHM, Rosmilah M, Bakhtiar F, Samsudin S, Abdullah N. Local bivalve allergens — a Malaysian perspective. Allergo J Int 2018;27:228–33
https://doi.org/10.1007/s40629-018-0057-z
Abstract
Background
Apart from the nutritional benefits, bivalves are also considered to be among a group of allergenic foods. Symptoms of allergy to bivalves are largely similar to those of allergic reactions reported for other shellfish. The identification of allergenic proteins in a particular species is an important step for the development of more accurate allergy tests and for the definition of more effective management of patients. Currently, studies regarding the allergens in bivalve species are lacking.
Materials and methods
This minireview is an overview of local scientific articles on identification of bivalve allergens by allergenomics methods including sodium dodecyl sulfate polyacrylamide gel electrophoresis (SDS-PAGE), two-dimensional gel electrophoresis (2-DE), immunoblotting and mass-spectrometry analysis.
Results
Tropomyosin has been the only well recognized allergen in a wide range of bivalve species. In addition to tropomyosin, our local study resulted in discovery of three novel bivalve major allergens; arginine kinase (40 kDa), actin (42 kDa) and troponin C (18 kDa).
Conclusion
This minireview will provide a better understanding of each allergen derived from local bivalves which subsequently will help in the understanding of the specific immunoglobulin E(IgE)-mediated immune response.