01.08.2010 | Original Article | Ausgabe 8/2010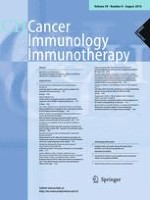 Local delivery of recombinant vaccinia virus encoding for neu counteracts growth of mammary tumors more efficiently than systemic delivery in neu transgenic mice
Zeitschrift:
Autoren:

Laura Masuelli, Laura Marzocchella, Chiara Focaccetti, Florigio Lista, Alessandra Nardi, Antonio Scardino, Maurizio Mattei, Mario Turriziani, Mauro Modesti, Guido Forni, Jeffrey Schlom, Andrea Modesti, Roberto Bei
Wichtige Hinweise
Electronic supplementary material
The online version of this article (doi:
10.​1007/​s00262-010-0850-0
) contains supplementary material, which is available to authorized users.
Abstract
Recombinant vaccinia virus has been widely employed as a cancer vaccine in several clinical trials. In this study we explored, employing BALB/c mice transgenic for the rat neu oncogene, the ability of the recombinant vaccinia virus neu (rV-
neu
T) vaccine to inhibit growth of neu+ mammary carcinomas and whether the efficacy of vaccination was dependent on: (a) carcinogenesis stage at which the vaccination was initiated; (b) number of vaccinations and (c) route of delivery (systemic vs. local). BALB-
neu
T mice were vaccinated one, two and three times by subcutaneous (s.c.) and intramammary gland (im.g.) injection with rV-
neu
T or V-wt (wild-type vaccinia virus) starting at the stage in which mouse mammary gland displays atypical hyperplasia, carcinoma in situ or invasive carcinoma. We demonstrated that vaccination using rV-
neu
T was more effective when started at an earlier stage of mammary carcinogenesis and after three vaccinations. The im.g. vaccination was more effective than the s.c. vaccination in inhibiting mammary carcinogenesis, eliciting anti-Neu antibodies, increasing anti-Neu IgG2a/G3 isotypes and inducing antibodies able to trigger mammary tumor cells apoptosis and antibody-dependent cellular cytotoxicity. The better protective ability of rV-
neu
T im.g. vaccination was associated with its capacity to induce a superior degree of in vivo mammary cancer cells apoptosis. Our research suggests that intratumoral vaccination using recombinant vaccinia virus could be employed to increase the activity of a genetic cancer vaccine. This study may have important implications for the design of cancer vaccine protocols for the treatment of breast cancer and of accessible tumors using recombinant vaccinia virus.