01.11.2010 | Symposium: Highlights of the ISOLS/MSTS 2009 Meeting | Ausgabe 11/2010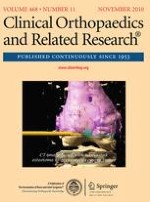 Local Recurrence After Initial Multidisciplinary Management of Soft Tissue Sarcoma: Is there a Way Out?
Zeitschrift:
Autoren:

MD Sarantis Abatzoglou, MD, FRCSC Robert E. Turcotte, MBBCh, FRCS-Glasg&Ed Abdurahman Adoubali, MD, FRCSC Marc H. Isler, MD, FRCPC David Roberge
Wichtige Hinweise
One of the authors (SA) was supported by a McGill medical student summer research bursary from the Mach Gaensslen Foundation of Canada. The institution of one or more of the authors (RET, MIH) has received funding from Stryker Canada. Stryker Canada has been unaware of both the data and the results and has no rights to oversee the conclusions.
Each author certifies that his or her institution has approved the human protocol for this investigation and that all investigations were conducted in conformity with ethical principles of research.
This study was conducted within the musculoskeletal oncology units at McGill University Health Centre and Maisonneuve-Rosemont Hospital.
Abstract
Background
Multimodality treatment of primary soft tissue sarcoma by expert teams reportedly affords a low incidence of local recurrence. Despite advances, treatment of local recurrence remains difficult and is not standardized.
Questions/purposes
We (1) determined the incidence of local recurrence from soft tissue sarcoma; (2) compared characteristics of the recurrent tumors with those of the primary ones; (3) evaluated local recurrences, metastases and death according to treatments; and (4) explored the relationship between the diagnosis of local recurrence and the occurrence of metastases.
Methods
From our prospective database, we identified 618 soft tissue sarcomas. Thirty-seven of the 618 patients (6%) had local recurrence. Leiomyosarcoma was the most frequent diagnosis (eight of 37). The mean delay from original surgery was 22 months (range, 2–75 months). Mean size was 4.8 cm (range, 0.4–28.0 cm). Median followup after local recurrence was 16 months (range, 0–98 months).
Results
Recurrent tumors had a tendency toward becoming deeper seated and higher graded. Nineteen of the 37 patients with recurrence underwent limb salvage (nine free flaps) and six had an amputation. Twenty-two (59%) had metastases, including 10 occurring after the local recurrence event at an average delay of 21 months (range, 1–34 months). Six patients developed additional local recurrences, with no apparent difference in risk between amputation (two of six) and limb salvage (four of 19).
Conclusions
Patients with a local recurrence of a soft tissue sarcoma have a poor prognosis. Limb salvage and additional radiotherapy remain possible but with substantial complications. Amputation did not prevent additional local recurrence or death.
Level of Evidence
Level IV, prognostic study. See Guidelines for Authors for a complete description of levels of evidence.