01.12.2015 | Research article | Ausgabe 1/2015 Open Access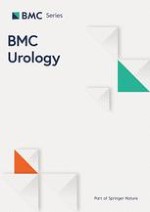 Localization of P2X receptor subtypes 2, 3 and 7 in human urinary bladder
Zeitschrift:
Autoren:

Karl Svennersten, Katarina Hallén-Grufman, Petra J. de Verdier, N. Peter Wiklund, Mirjana Poljakovic
Wichtige Hinweise
Competing interests
The authors have no conflict of interest to declare.
Authors' contributions
KHG, MP and NPW conceived of the study. MP, KS, KHG, and PJdV designed experiments. KS and MP interpreted and analysed results. KS and MP prepared manuscript. KS performed experiments. KS prepared figures. All authors read and approved the final manuscript.
Abstract
Background
Voiding dysfunctions are a common problem that has a severe negative impact on the quality of life. Today there is a need for new drug targets for these conditions. The role of ATP receptors in bladder physiology has been studied for some time, primarily in animal models. The aim of this work is to investigate the localization of the ATP receptors P2X2, P2X3 and P2X7 and their colocalization with vimentin and actin in the human urinary bladder.
Methods
Immunohistochemical analysis was conducted on full-thickness bladder tissues from fundus and trigonum collected from 15 patients undergoing open radical cystectomy due to chronic cystitis, bladder cancer or locally advanced prostate cancer. Colocalization analyses were performed between the three different P2X subtypes and the structural proteins vimentin and actin. Specimens were examined using epifluorescence microscopy and correlation coefficients were calculated for each costaining as well as the mean distance from the laminin positive basal side of the urothelium to the vimentin positive cells located in the suburothelium.
Results
P2X2 was expressed in vimentin positive cells located in the suburothelium. Less distinct labelling of P2X2 was also observed in actin positive smooth muscle cells and in the urothelium. P2X3 was expressed in vimentin positive cells surrounding the smooth muscle, and in vimentin positive cells located in the suburothelium. Weaker P2X3 labelling was seen in the urothelium. P2X7 was expressed in the smooth muscle cells and the urothelium. In the suburothelium, cells double positive for P2X2 and vimentin where located closer to the urothelium while cells double positive for P2X3 and vimentin where located further from the urothelium.
Conclusion
The results from this study demonstrate that there is a significant difference in the expression of the purinergic P2X2, P2X3 and P2X7 receptors in the different histological layers of the human urinary bladder.