01.02.2007 | Ausgabe 2/2007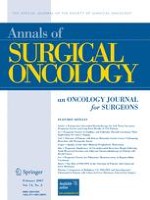 Loco-regional Recurrence from Colon Cancer: A Population-based Study
Zeitschrift:
Autoren:

Annika Sjövall, Fredrik Granath, Björn Cedermark, Bengt Glimelius, Torbjörn Holm
Abstract
Background
The survival after colon cancer surgery has not improved to the same extent as after rectal cancer treatment and studies on loco-regional recurrence after colon cancer surgery are scarce. The aim of this study was to assess the problem of loco-regional recurrence after potentially curative resections for colon cancer, regarding incidence, risk factors, management, and outcome.
Methods
All 1,856 patients submitted to potentially curative surgery for colon cancer in the Stockholm/Gotland region in Sweden between 1996 and 2000 were followed until January 2005 or until death. Follow-up data were prospectively collected. Risk factors for loco-regional recurrences were analyzed, treatment and outcome for patients with recurrence was studied.
Results
The cumulative 5-year incidence of loco-regional recurrence was 11.5%. Tumor locations in the right flexure and in the sigmoid colon, bowel perforation and emergent surgery were identified as independent risk factors for loco-regional recurrence. The risk also increased with increasing T- and N-stage.
The median survival for all 192 patients with loco-regional recurrence was 9 months. Surgery was performed in 110 (57%) patients. In 23 (12%) patients a complete tumor clearance was achieved and the estimated 5-year survival in this group was 43%.
Conclusion
Loco-regional recurrence from colon cancer is a significant clinical problem. A multidisciplinary treatment approach, including preoperative staging, a complete resection of the recurrence and more effective adjuvant treatments may improve the outcome.