29.10.2018 | Übersicht | Ausgabe 7/2018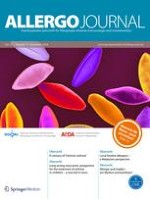 Long-acting muscarinic antagonists for the treatment of asthma in children — a new kid in town
Zeitschrift:
Autor:

Prof. Dr. Eckard Hamelmann
Wichtige Hinweise
Funding
The author takes full responsibility for the scope, direction, content of, and editorial decisions relating to the manuscript, was involved at all stages of development, and has approved the submitted manuscript. Medical writing assistance, in the form of the preparation and revision of the draft manuscript, was supported financially by Boehringer Ingelheim and provided by Martina Stagno d'Alcontres, PhD, of MediTech Media, under the author's conceptual direction and based on feedback from the author. Boehringer Ingelheim was given the opportunity to review the manuscript for factual accuracy only.
Conflict of interest
Eckard Hamelmann has served on scientific advisory boards and received honorarium for lectures on scientific meetings from ALK, Allergopharma, Bencard, Boehringer Ingelheim, LETI Pharma, Novartis, Nutricia, and Stallergenes.
Cite this as
Hamelmann E. Long-acting muscarinic antagonists for the treatment of asthma in children — a new kid in town. Allergo J Int 2018;27:220–7
https://doi.org/10.1007/s40629-018-0066-y
Abstract
Background
Asthma is the most prevalent chronic airway disease observed in children and adolescents, yet the variety of treatment options available for this age group is limited. With many factors influencing therapeutic efficacy including patient knowledge, adherence, and therapy choice as well as delivery device, it is important to have more options to tailor to individual patient needs.
Methods
This article is an overview of recent scientific articles using a systematic literature search in PubMed and specialist databases.
Results
Tiotropium is the first long-acting muscarinic antagonist to be licensed for treatment of asthma and has been demonstrated to be an effective add-on therapy across all age groups. Its therapeutic success in clinical trials resulted in Food and Drug Administration and the European Medicines Agency approval for asthma treatment in people over the age of 6 years in the US and EU.
Conclusion
Further studies into the use of tiotropium, especially in younger children, could be of interest for future treatment decisions.