01.12.2019 | Research | Ausgabe 1/2019 Open Access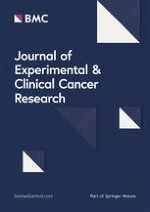 Long non-coding RNA LINC00174 promotes glycolysis and tumor progression by regulating miR-152-3p/SLC2A1 axis in glioma
Zeitschrift:
Autoren:

Jian Shi, Yang Zhang, Bing Qin, Yongjie Wang, Xiangdong Zhu
Wichtige Hinweise
Dr Jian Shi and Dr Yang Zhang contributed equally to the study, and they are co-first authors.
Publisher's Note
Springer Nature remains neutral with regard to jurisdictional claims in published maps and institutional affiliations.
Abstract
Background
Long non-coding RNA plays a crucial role in the occurrence and progression of glioma. We aimed to explore the function of LINC00174 in cell proliferation, apoptosis, migration, invasion and glycolysis of glioma cells, and investigate the molecular mechanism involved.
Methods
LINC00174 expression in glioma tissues and peritumoral brain edema (PTBE) tissues was examined by RT-qPCR and in situ hybridization. The CCK-8, TUNEL, wound healing, transwell, and ELISA assays were performed to identify the effects of LINC00174 knockdown on cell viability, apoptosis, migration, invasion, and glycolysis, respectively. RNA immunoprecipitation, dual-luciferase reporter, RNA pull down, and western blot assays were performed to explore the molecular mechanisms of LINC00174 in glioma cells. A nude mouse xenograft model was used to investigate the role of LINC00174 in xenograft glioma growth.
Results
LINC00174 was overexpressed in glioma tissues and cell lines. LINC00174 knockdown inhibited cell proliferation, migration, invasion and glycolysis of glioma cells, and LINC00174 exerted a tumorigenesis role. LINC00174 could interact with miR-152-3p/SLC2A1 axes. The miR-152-3p inhibitor or the SLC2A1 overexpression could rescue the anti-tumor effect of LINC00174 knockdown on glioma cells. Moreover, downregulation of LINC00174 also inhibited tumor volume and delayed the tumor growth in vivo.
Conclusion
LINC00174 accelerated carcinogenesis of glioma via sponging miR-1523-3p and increasing the SLC2A1 expression, which could be considered as a molecular target for glioma diagnosis and therapy.