01.12.2018 | Primary Research | Ausgabe 1/2018 Open Access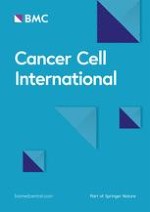 Long non-coding RNA MIAT promotes growth and metastasis of colorectal cancer cells through regulation of miR-132/Derlin-1 pathway
Zeitschrift:
Autoren:

Zhaoxia Liu, Hai Wang, Hongwei Cai, Ye Hong, Yan Li, Dongming Su, Zhining Fan
Wichtige Hinweise
Electronic supplementary material
Abstract
Objective
Recently, long non-coding RNA (lncRNA) MIAT has been demonstrated as an oncogenic gene in several types of cancer. However, the role and mechanism of MIAT in colorectal cancer (CRC) have not been investigated.
Methods
Real-time PCR was used to measure MIAT expression in CRC tissues and cells. Small interfering RNA specific for MIAT (si-MIAT) was used to down-regulate MIAT expression in CRC cells. The interaction of MIAT and miR-132 was measured by RNA pull-down assay. The effect of si-MIAT on CRC cells apoptosis and metastasis were measured by flow cytometry assay, invasion and migration assay, respectively.
Results
In present study, we found that MIAT was highly expressed in CRC tissues and cells. MIAT knockdown inhibited proliferation, migration and invasion and enhanced apoptosis of CRC cells. Further, we demonstrated that MIAT acted as a competing endogenous RNA for miR-132, antagonized its functions, and resulted in the de-repression of its target gene Derlin-1, which acted as an oncogene in promoting growth and metastasis of CRC cells. In LOVO and SW480 cells with si-MIAT, miR-132 inhibitor resulted in an increase of cell proliferation, migration and invasion and a decrease of cell apoptosis, which was partially abolished by transfection of Derlin-1 shRNA.
Conclusions
Our data indicated that highly expressed MIAT was an oncogenic lncRNA that promoted the growth and metastasis of CRC through miR-132/Derlin-1 axis.